In My Mailbox idea from Kristi @ The Story Siren, and all links take you to Amazon. Click images for a bigger picture!
I had a brilliant week this week! Not only has it been a great week for tennis at Wimbledon, but
Eclipse
was released in cinemas here for the weekend only (until next Friday 9th July). I saw it 3 times yesterday, and it is AMAZING! I love everything about it, except for a couple of little quibbles that don't really matter in the grand scheme of things. Anyway, if you haven't seen it, go and see it! Hope everyone in the US enjoyed it too :D
Now begins the LONG wait for
Breaking Dawn
Part 1... *cries*
Here's what I got this week: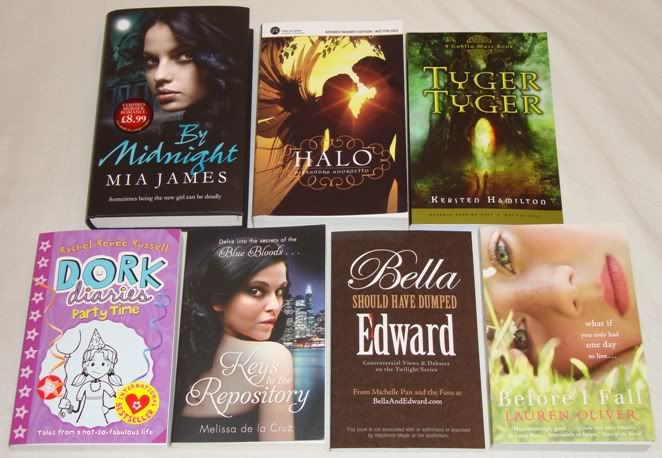 I was so surprised/excited when I opened the
Before I Fall
paperback package, and saw that I was quoted on the back cover and inside. I jumped up and down and IM'd
Carla
straight away. Very, very cool!
And last but not least, my Brazilian friend Lais (AKA. Fracky over at
her awesome blog
) sent me a
Hush, Hush
(or
Sussurro
as it's known in Brazil) promo kit, along with some Brazilian
Twilight Saga
bookmarks/postcards, and some bookmarks for other YA books. Thanks Lais, I love it all! :)
Happy reading everyone!