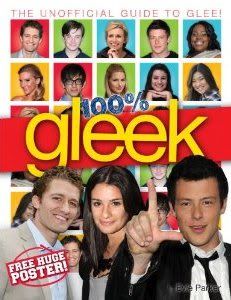 Publisher:
Bantam Books
Format:
Hardcover
Released:
July 1st, 2010
Grade rating:
B+/A-
Amazon summary:
The perfect guide to the cynical, sweet and downright funny hit show, this companion book is packed with behind the scenes facts, set gossip and full colour photos - it's a must-read for all you Gleeks!
Review:
Okay, so: hands up if you're a
Glee
fan. Most of you? Thought so! It's definitely a show that's taken the world by storm, and who can blame it?! For the most part, it's fantastic, though it's weekly moral storylines could be toned down every now and then. Anyway, this isn't a review of the show, it's a review of
100% Gleek: The Unofficial Guide to Glee
. While this book may be unofficial, it's still packed to the rafters with show, actor and character info, and is a must-buy for all fans of Ryan Murphy's addictive all-singing all-dancing display of talent.
Basically, anything you want to know about
Glee
, you'll find in this book. There are character and actor profiles for pretty much everyone (including the opposing schools), music guides for each episode, the lowdown on McKinley High's scandals, and a section on McKinley romances. There's even a huge fold-out poster included at the back, which I'm sure will adorn many a fan's wall.
As far as unofficial guides go,
100% Gleek
is up there with the better ones. There are many pictures to stare at or, if you're a Puck fan like me, drool over - I do like a badass boy who has a secret good side. Some of the images could be better, as there are no official promo stills, only public photos of the cast, which I suppose is the only downside to an unofficial guide. Did you know that, in the Director's Cut of the
Glee
pilot episode, Mr. Schu gets an extra song? No, me neither. I'm off to see what else I can learn!