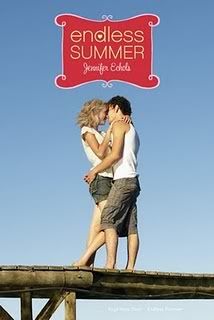 Publisher:
Simon Pulse
Format:
Paperback
Released:
May 25th, 2010
Grade rating:
C+
(Book #2:
Endless Summer
)
Amazon summary:
Two irresistible boys. One unforgettable summer.
Lori can't wait for her summer at the lake. She loves wakeboarding and hanging with her friends--including the two hotties next door. With the Vader brothers, she's always been just one of the guys. Now that she's turning sixteen, she wants to be seen as one of the girls, especially in the eyes of Sean, the older brother. But that's not going to happen--not if the younger brother, Adam, can help it. Lori plans to make Sean jealous by spending time with Adam. Adam has plans of his own for Lori. As the air heats up, so does this love triangle. Will Lori's romantic summer melt into one hot mess?
Review:
Endless Summer
is a bind-up of both books in this series:
The Boys Next Door
and
Endless Summer
. The above summary is more for
The Boys Next Door
, which I already reviewed (and loved)
here
. Today I'm just talking about
Endless Summer
, which is a direct continuation of Lori's summer with the boys next door.
I really admire Jennifer Echols and her writing. I think she crafts realistic characters and situations, and puts so much effort into her work. I've loved everything I've previously read by her, though I was disappointed with
Endless Summer
. I know there were originally no plans for a sequel to
The Boys Next Door
, which kind of explains why the plot felt like it was all over the place.
The characters didn't seem at all like themselves, and instead morphed into jealous, needy people with, I have to say, some of the worst ideas ever thought of by someone with a brain. There were many times when I wanted to ask Lori and Adam what on earth they were thinking, because it just didn't make sense to me why they'd behave in that way. I think they went about things the wrong way, though I did understand their motives and how everything looked to them. I'm going to put it all down to their intense feelings for each other, and hope that it was merely a slip-up in their relationship.
There were still some elements left over from
The Boys Next Door
that I loved, like Lori's relationship with all the Vader boys, Adam's sexy charm and the suave hotness that was Sean. Their sharp tongues and quick-fire retorts were as present as ever, along with all the brotherly teasing and hijinks that I came to love in the first book.
As one volume,
Endless Summer
is 100% worth owning, and I can't recommend it enough. It includes
The Boys Next Door
, and that alone is worthy of the $9.99 price tag. I'm choosing to see
Endless Summer
as an added bonus, and though it isn't my favourite book by Echols, it's still a good addition to her backlog of novels. And while I'm here, I should mention her upcoming MTV release, that goes by the name of
Forget You
. It's good (not to mention smokin' HOTT), and you should all look out for it in a couple of weeks!