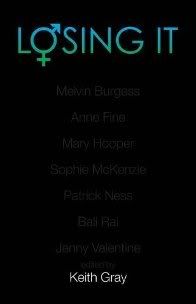 Publisher:
Andersen Press
Format:
Paperback
Released:
July 8th, 2010
Grade rating:
B+
Amazon summary:
Some of today's leading writers for teens are gathered here in a wonderful collection of original stories: some funny, some moving, some haunting but all revolving around the same subject - having sex for the first time! You never forget your first time and you'll never forget this book.
Review:
Losing It
is an anthology of stories about virginity: losing it, discussing it and living it. Edited by the fantastic Keith Gray and including short stories written by some of the UK's best YA authors, including Jenny Valentine, Patrick Ness, Sophie McKenzie and Melvin Burgess,
Losing It
is an accomplishment for all involved.
Gone are the days of sex being a nightmarish taboo that no-one ever talks about, least of all parents and teachers. These days, teenagers are given sex education at school and parents are expected to have 'the talk' as soon as possible (often with cringeworthy consequences, might I add - if you've seen
Eclipse
, you'll know what I mean!). Teenagers are often said to be growing up faster now, and what better way to offer support than a book all about the pros and cons of losing your virginity.
Every scenario is covered in
Losing It
, from the girl who learns a valuable lesson from a relative, a boy who realises that being gay isn't anything to be ashamed of, and a girl who pays the ultimate price for her country's extreme views. I'm sure every reader will be able to identify with at least one of the characters and their story, even if it's only the guy who seemingly lies about an older conquest, or the girl who chooses to wait for the right person to come along. There really is something for everyone.
My personal favourite stories from the anthology are
Different for Boys
by Patrick Ness,
The Way It Is
by Sophie McKenzie, and
The White Towel
by Bali Rai. Just from reading these 3 short contributions, I laughed, gasped and very nearly cried. I never realised so much emotion could be found within 20 pages, but
The White Towel
soon disproved that. A few of the stories aren't as strong or as memorable as others, but are well worth reading all the same. As with all anthologies, it's a team effort, and each author brings something valuable to the pages of
Losing It
.
I think every teenager should read this, whether they're having sex, thinking about having sex or even just curious about when might be the right time. There's a lot to take away from this book, and I hope it will inspire others to write about these subjects in a similar way.