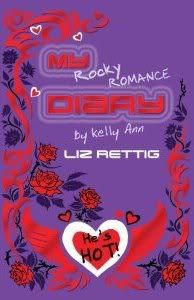 Publisher:
Corgi Children's
Format:
Paperback
Released:
August 5th, 2010
Grade rating:
A
Amazon summary:
Kelly Ann is all loved-up with her gorgeous soulmate, Chris, so there's no way she's going to let her attraction for the dark and dangerous new boy at school go any further. OK, so he rides a cool Harley Davidson motorbike, plays in a cool band and has dedicated a song to her. But she's not going to let that rock her relationship with Chris, is she? Besides, Kelly Ann has other things to worry about. Like being dragged through the mud by a rogue Great Dane, locked out of the house by an eight year old she's supposed to be babysitting and that YouTube video that shows her grappling with a half-naked guy in Pizza Express - 200,000 hits and counting in just twelve hours...
Review:
I've been a Liz Rettig fan since I first read
My Desperate Love Diary
in 2005, and have since read everything she's written. She's always been up there with Louise Rennison as the UK's best teen chick-lit writer, and
My Rocky Romance Diary
has cemented that status even further.
Above all else, this book is funny. Like,
really
funny. If you thought Kelly Ann's previous escapades were outrageous, just wait 'til you read this. Now that she's got a steady boyfriend, Chris, all sorts of problems present themselves. Fantasies about new boy Matt is at the top of the list which, as you've guessed, makes life very difficult for her and Chris. Matt is a bad boy to the core, equipped with an edgy dress sense and a Harley motorbike. He's enough to make any girl swoon, including Kelly Ann and the rest of the college student body.
My Rocky Romance Diary
sees 17-year-old Kelly Ann have sex, experience jealousy and lust, and the unusual urge to live the single life for a while. Rettig uses her dry Scottish humour to her advantage, giving Kelly Ann some hilarious dialogue that had me laughing out loud. Although the tone of the book is as lighthearted as the rest of the series, you can definitely tell the characters are growing up. The teen problems we've been used to are now more mature, and probably a lot more realistic than you'd expect.
I've enjoyed this whole series, but
My Rocky Romance Diary
is head and shoulders above the rest. When I read teen chick-lit, this is exactly the kind I want - something fun, down to earth and capable of making me laugh. Now excuse me while I go and fly my Kelly Ann flag. Long live Liz Rettig!