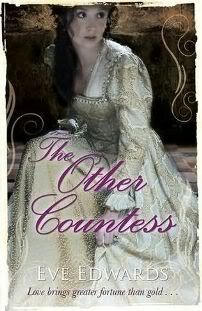 Publisher:
Puffin Razorbill
Format:
Paperback
Released:
July 1st, 2010
Grade rating:
B
Amazon summary:
England, 1582. Ellie – Lady Eleanor Rodriguez of San Jaime – is in possession of a gold-seeking father, a worthless title and a feisty spirit that captivates the elite of the Queen's court, and none other than the handsome new Earl of Dorset... William Lacey has inherited his father's title and his financial ruin. Now the Earl must seek a wealthy heiress and restore his family's fortune. But Will's head has been turned by the gorgeous Ellie, yet their union can never be. Will is destined to marry a worthy Lady so the only question is – which one...?
Review:
The Other Countess
isn't something that I'd normally read, but because it's one of the first titles to be published under Puffin UK's new Razorbill imprint, I thought I'd give it a go. It's a solid debut title, and has led me to believe that perhaps historical fiction is my thing after all. It's the second historical YA book I've enjoyed recently, so I think I need to pay more attention to this particular genre, and not just turn my nose up at it because there's a frilly dress on the cover.
Eve Edwards writes about Tudor England as if she lived during that period herself, with an excellent eye for detail and traditions present at that time. Every now and then the language strays into a more contemporary style, but this only happens once or twice that I remember. Edwards has taken the utmost care to preserve the time of the Tudors, and her writing shows a true passion for our country's history.
The romance present in
The Other Countess
is lovely and somewhat innocent, with both main characters suiting each other perfectly. Ellie is strong-willed and stubborn, while Will is every bit the protector you'd expect him to be. I'll admit to swooning at a couple of things he said, mostly lines directed at the lucky Lady Ellie.
The reason
The Other Countess
falls short for me is all to do with the pace of the plot. Around halfway through, things slowed down and I kept losing my concentration. I had the same problem with
The Luxe
series, though, so I don't think there's anything specifically wrong with
The Other Countess
. Even though I do still enjoy them, I think I just generally struggle with slower stories, especially ones with a historical setting.
I'm interested to see what Will and Ellie will find themselves faced with next, and whether their difference in wealth will have a bigger part in the sequel.
The Other Countess
is something different on YA shelves, and it'll suit those readers looking for a sweet love story with a nod to times gone by.