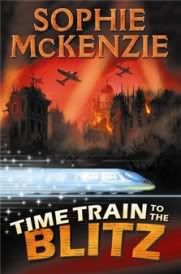 Publisher:
Usborne
Format:
Paperback
Released:
April 30th, 2010
Grade rating:
B+/A-
Amazon summary:
It all starts when a mysterious train appears in the park. Before they know what's happening, Joe and Scarlett are whisked away on a journey back in time. Magically transported to World War II they're given a mission: to save a young boy's life. But with bombs falling on London they find they are counting down to disaster...
Review:
A lot of my blog readers will probably know about my interest in all things WWII related, thanks to my love for books like
The Book Thief
,
Once
and
The Boy in the Striped Pyjamas
. I'll read stories aimed at any age group if they're about the war, which is why I was eager to read
Time Train to the Blitz
, though it's for around the 7+ age.
Sophie McKenzie was already one of my favourite UK authors before reading this book, but now I think there's absolutely nothing she can't do. She approaches
Time Train to the Blitz
with the utmost respect, and never glorifies any parts of the war. She tells a story of chance and danger, while showing the loss of innocence that occured during the years of 1939 - 1945. No child should ever have to deal with the death of their loved ones, never mind the fight for their own life, thought that's exactly what happened.
By using a clever excuse for time travel in the form of a mysterious train that just shows up unexpectedly, main characters Joe and Scarlett find themselves in the throes of The Blitz. London in 1941 is literally in ruins, with bombs likely to fall at any moment. There's more rubble than standing houses, and in the midst of it all is a boy called Alfie. Joe and Scarlett are the only people who can save his life, and they do their utmost to ensure he has all the help he needs.
McKenzie paints her characters in a courageous light, and shows that even children were aware of the casualties of war.
Time Train to the Blitz
is informative and educational and, though I wish it was longer than its 142 pages, I think it's the perfect length for a 7-year-old. It's not peppered with too many facts and figures, and instead shows The Blitz from a child's point of view, inviting the reader to ask many a question of their own. Great stuff.