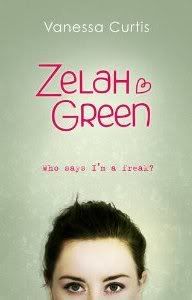 Publisher:
Egmont UK
Format:
Paperback
Re-Released:
July 5th, 2010
Grade rating:
B+
/A-
Amazon summary:
My Name is Zelah Green and I'm a cleanaholic. I spend most of my life running away from germs, dirt, and people. And I'm just about doing ok and then my stepmother packs me off to some kind of hospital to live with a load of strangers. It's stuck in the middle of nowhere. Great. There's Alice who's anorexic. Caro who cuts herself. Silent Sol who has the cutest smile. And then there's me.
Review:
When
Zelah Green
was originally released as
Zelah Green: Queen of Clean
, I paid little or no attention to it. I'm not entirely sure why, I just know I didn't give it a second glance. This new cover made me think twice, and I'm really glad I gave it a go. I loved the writing style and Zelah's personality, and am looking forward to reading book 2 as soon as possible.
Zelah has a form of OCD, which makes her jump on a step a certain number of times, wash her hands a certain way, and change her shoes on a particular step. These rituals have literally taken over her life, and lead her stepmother to ship her off to a kind of mental health hospital. There Zelah meets some brilliant friends and mentors, each with different problems of their own.
Although
Zelah Green
sounds like a serious read, it's actually quite funny. Zelah's voice is clever, hard to ignore and not easily forgotten. The way she deals with her rituals is often humorous, with her thoughts providing a great insight into her life and her past. The friends she meets at Forest Hill House, including Caro, Sol, and Lib, are all beautifully written, and are all supportive yet flawed characters. It reminded me of a
Big Brother
house, in a way, as each personality was so drastically different, and all forced to share the same space.
Zelah Green
is a fantastic book, and one that I'd highly recommend. It's a quick read, but has so much more substance than you'd initially think. I think I'll be reading anything Vanessa Curtis writes, whether it be more stories of Zelah or something completely different.