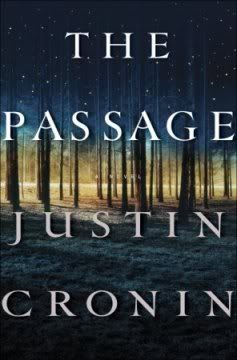 US // UK
This week, I have a very clear favourite. When it comes to covers for new adult novel
The Passage
, I just can't love anything more than the UK one. I mean, just look at it!
It's a cracking display of creepiness; it's unsettling, unnerving, and guaranteed to make you stop and stare. I have it face out on my bookshelf, and my mum and sister have asked me time and time again to turn it round. They can't stand her haunting eyes.
I was lucky enough to interview Justin Cronin in person the other day (that will be posted soon, hopefully next week), and I asked him which cover he preferred. He said he honestly likes both. I see where he's coming from with that, because the US cover is creepy and ominous in its own way, but it doesn't have the same effect on me as the UK one does. I have serious cover love for what Orion did with that image, and the awesome 'Something is coming' line makes it even better.
Oh, and the UK cover is shiny. Did I mention that? It has a kind of chrome effect, and seems to bounce off the light and change colours in the glare (I've attempted to demonstrate this below). It ROCKS.
So, in other words: sorry mum, but it ain't going anywhere!