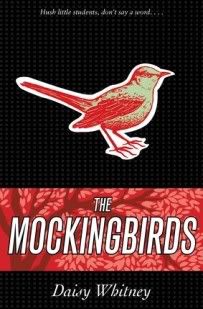 Waiting on Wednesday idea from Jill at Breaking the Spine.
-----
The Mockingbirds
by Daisy Whitney
* Published by: Little, Brown (US)
* Format: Hardcover
* Release Date: November 2nd, 2010 (US)
* On Amazon:

here





Amazon summary:


Some schools have honor codes.
Others have handbooks.
Themis Academy has the Mockingbirds.
Themis Academy is a quiet boarding school with an exceptional student body that the administration trusts to always behave the honorable way--the Themis Way. So when Alex is date raped during her junior year, she has two options: stay silent and hope someone helps her, or enlist the Mockingbirds--a secret society of students dedicated to righting the wrongs of their fellow peers.
In this honest, page-turning account of a teen girl's struggle to stand up for herself, debut author Daisy Whitney reminds readers that if you love something or someone--especially yourself--you fight for it.
How good does this sound?! It's another debut that's been on my radar ever since I heard about it a few months ago, and I've been hearing great things from other bloggers who have been lucky enough to read it. Secret societies always interest me, though I don't think I've come across one formed to right the wrongs of the student body. I can't wait for this one!