In My Mailbox idea from Kristi @ The Story Siren, and all links take you to Amazon. Click images for a bigger picture!
It was a slow week for books this week, though the ones I did get look really good. I've already read
Mockingjay
, and I'm sorry to say I was disappointed. Still, I'm glad I finally know how everything ends, and
The Hunger Games
will always be one of my favourite books. If you haven't read it yet, you really should - it's amazing! I did get a few other cool things too, which I have to mention. Mostly vampire related, of course. ;)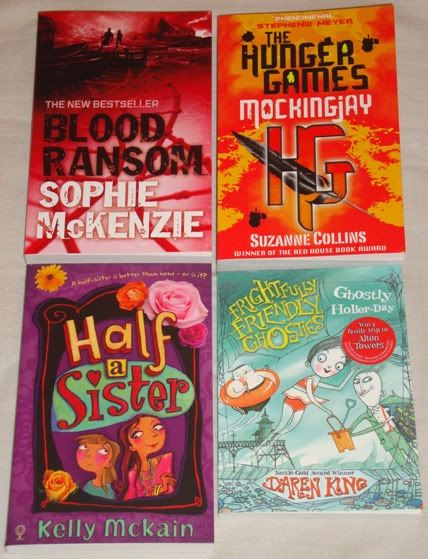 Sophie Jordan, author of
Firelight
(which I LOVED - review coming on Monday!), very kindly sent me some bookmarks, postcards and stickers. I've sent some out to a few UK blogger friends to spread the word, 'cause this book is ace! Also thanks to Scholastic for a
Mockingjay
postcard and series pin.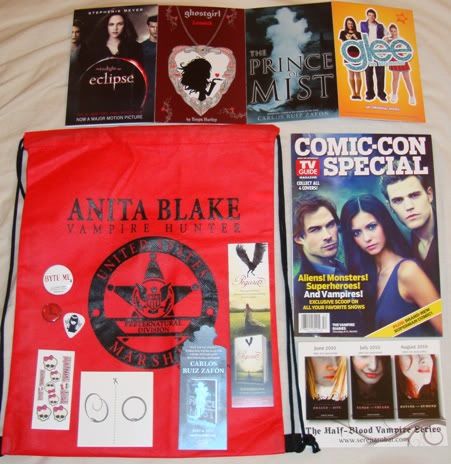 My lovely friend Leanne, who has been mentioned on here quite a few times, sent me some cool book/vampire-related stuff from her trip to San Diego Comic-Con, including: a
Pegasus
bookmark,
Eternal Ones
tattoos,
Morganville Vampires
badge, oh, and a magazine with
Vampire Diaries
on the cover! Thanks Leanne, you are awesome!
Last but not least (and not strictly book related), my new pride and joy:
The Vampire Diaries
Season 1 DVD. I don't often include DVDs in my IMM posts, but this one is too exciting not to mention. YAY!! I love this show!
As always, happy reading everyone -- hope you all loved
Mockingjay
, and here's to a week filled with many dreams of Damon. Or Stefan. ;)