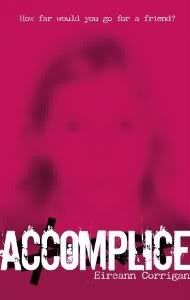 Publisher:
Chicken House
Format:
Paperback
Released:
July 5th, 2010
Grade rating:
B/B+
Amazon summary:
How far can you go for attention? Finn and Chloe have it all figured out. It's not enough to be clever, good looking or sporty. To get on, you've got to get noticed. You've got to be famous for something, right? Chloe decides there's another way to get attention. She and Finn will stage her own disappearance - and then Finn will be the one who finds and saves her. It seems like a good idea, until things go badly wrong. What seemed victimless isn't so innocent anymore. And it's Finn who must deal with the fall-out.
Review:
Have you guys ever seen a British film called
The Hole
? It's about a group of teenagers who hatch a plan to disappear during a school trip, not knowing that their actions will forever change all of their lives.
Accomplice
reminded me of that right from the beginning, which is good for me, because I love that movie.
In A
ccomplice
, best friends Finn and Chloe come up with a plan for Chloe to disappear, making it look like a kidnapping. It's unnerving to see how meticulous and calculating they are, not to mention how selfish. They put their parents, friends and town through utter hell, and never seem to fully realise the extent of what they're doing. These are supposed to be clever girls, with aspirations of attending a good college and getting a decent education. Instead they make the worst decisions known to man, ruin lives and endanger their own.
The plot itself is very well thought out, though a couple of things bothered me. Chloe's hiding place seemed far too convenient, and the fact that no-one discovered her didn't seem realistic. In fact, the whole plan seemed a little too easy, especially given the tiny town where both girls lived. I don't think disappearing would have been that easy but, having never done it, I'm no authority on the subject.
Corrigan's writing is noticeably good, and her characterisation is top notch. She made me follow these girls through every bad decision and, most importantly, she made me trust them. Over the course of the novel, my feelings towards Finn and Chloe changed, until finally everything fell into place and I understood the meaning behind their plan. If I read it again, I think I'd pick up clues earlier on, which I didn't think to look for the first time around.
Accomplice
is a book that will make you think, and one that will make you question trust and loyalty. Friendships have to have boundaries, because without them things fall apart, just like it did for Finn and Chloe. As the front of the books says: how far would you go for a friend?