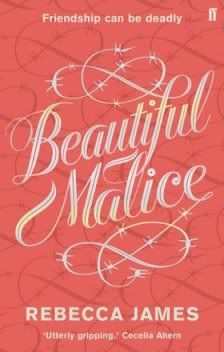 Publisher:
Faber and Faber
Format:
Paperback
Released:
July 1st, 2010
Grade rating:
B/B+
Amazon summary:
So. Were you glad, deep down? Were you glad to be rid of her? Your perfect sister? Were you secretly glad when she was killed? Following a horrific tragedy that leaves her once perfect family devastated, Katherine Patterson moves to a new city, starts at a new school, and looks forward to a new life of quiet anonymity. But when Katherine meets the gregarious and beautiful Alice Parrie her resolution to live a solitary life becomes difficult. Katherine is unable to resist the flattering attention that Alice pays her and is so charmed by Alice's contagious enthusiasm that the two girls soon become firm friends. Alice's joie de vivre is transformative; it helps Katherine forget her painful past and slowly, tentatively, Katherine allows herself to start enjoying life again. But being friends with Alice is complicated – and as Katherine gets to know her better she discovers that although Alice can be charming and generous she can also be selfish and egocentric. Sometimes, even, Alice is cruel. And when Katherine starts to wonder if Alice is really the kind of person she wants as a friend, she discovers something else about Alice – she doesn't like being cast off.
Review:
Beautiful Malice
took me completely by surprise. After hearing all about how it was a "publishing phenomenon" and an "international sensation", I'll admit I was a little apprehensive to read it. Why? I just didn't want to be disappointed. While it's not a stand-out favourite of mine, the story has succeeded in sticking in my head and, while I'm at it, totally freaked me out.
As a psychological thriller,
Beautiful Malice
ticks all the creepy boxes, and has more shocking moments than you'll know what to do with. It's clever, unusual and just slightly more twisted than I'm used to. It really plays on that age-old notion of people not being who you thought they were and, coupled with the consequences of bad decisions, it can be a tough read at times.
Katherine and Alice are both strong, layered protagonists with secrets buried so deep you think they'll never see the light of day. Katherine takes a while to fully figure out, but once you have her pegged as someone dealing with an intense amount of guilt, everything about her slots nicely into place. Alice, on the other hand, is just plain unfathomable. Right from the beginning, I had an uneasy feeling about her, from the moment she appeared on the page. Some of my suspicions were realised over the course of the book, while others never came to anything. She's a tangled web for you to unravel and, when you do, you'll wonder how you missed all the clues that make up her mystery.
Towards the end of Katherine's story, and as I started figuring out what was going on, I thought she would too. The obvious course of action would have been to move away with boyfriend Mick (who, by the way, I loved), or contact someone else for help. Of course, had that happened, the conclusion wouldn't have played out in the same way, and it would have lost its shock factor.
James writes fantastically for a debut author, and the way she flits between 3 different periods in time keeps the narrative moving at a fast and interesting pace. It's hard to look away from the events unfolding, even though I did occasionally find myself wanting to. After such a suspenseful 300 pages, I found the ending a bit anti-climactic. Though one part of it left me reeling like you wouldn't believe, the overall conclusion left me wanting more. The ending was in no way bad, so I think my dissatisfaction is down to the strength of the rest of the novel.
If you're looking for a thought-provoking read on the more psychological side of things, I think you'll really like
Beautiful Malice
. It didn't blow me away like I expected it to, but it's a good, page-turning debut that I'd recommend.