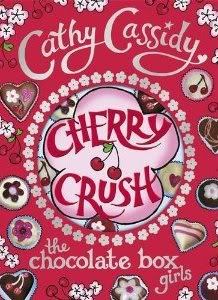 Publisher:
Puffin
Format:
Hardcover
Released:
September 2nd, 2010
Grade rating:
A-
Amazon summary:
Cherry Costello's life is about to change forever. She and Dad are moving to Somerset where a new mum and a bunch of brand-new sisters await. And on Cherry's first day there she meets Shay Fletcher; with suntanned skin and sea-green eyes he's the kind of boy who should carry a government health warning. But Shay already has a girlfriend, Cherry's new stepsister, Honey. Cherry knows her friendship with Shay is dangerous – it could destroy everything. But that doesn't mean she's going to stay away from him...
Review:
Cathy Cassidy is yet another prolific UK children's author I'd never read until now. I'm not going to lie: I've always thought her books looked too young, which is why I avoided them. Pretty bad, I know. I'm really surprised by how much I enjoyed
Cherry Crush
, as I had no idea it'd be so fun or addictive.
This is the first in a brand new 5-book series, which I believe is Cassidy's first, and came about due to fan demand. It's the story of Cherry Costello who, along with her father, moves from Glasgow to Somerset to be with his new girlfriend, Charlotte, and her large family. Charlotte has 4 daughters - Honey, Skye, Summer and Coco. They're all roughly around the same age as Cherry, and are like the sisters she never had. I liked all the sisters, though Honey left something to be desired. I know I'm supposed to sympathise with her situation, but I can't be doing with people who behave like that. She's the only aspect of the book I really didn't like, but I can see that her emotional journey was an important part of her family's lives.
Cherry Crush
has a great sense of family values, which is what I loved most about it. I'm really close to my family, and seeing that portrayed in books always makes me smile. Family is the most important thing after all, and Cassidy effortlessly shows that with her story of change and self-discovery. Of course,
Cherry Crush
wouldn't be complete without a little romance, which comes in the form of Honey's boyfriend Shay. He's sweet, supportive and struggling with family problems of his own. He instantly connects with Cherry, and the way their friendship develops is subtle and unassuming.
Cassidy covers so many themes here that it's difficult to mention them all. Loss, truth and acceptance play a big part in Cherry's story, but there's so much more waiting for you within these pages. It's an absolute joy to read, and I think teenagers will love it - if I'd read it when I was 14, I'd have thought I'd won the book lottery. The next instalment,
Vanilla Skye
, is published in September 2011, and I can't wait. If I could read it now, I would!