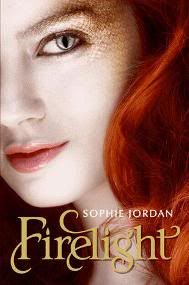 Publisher:
HarperTeen
Format:
Hardcover
Released:
September 7th, 2010
Grade rating:
A
Amazon summary:
Marked as special at an early age, Jacinda knows her every move is watched. But she longs for freedom to make her own choices. When she breaks the most sacred tenet among her kind, she nearly pays with her life. Until a beautiful stranger saves her. A stranger who was sent to hunt those like her. For Jacinda is a draki—a descendant of dragons whose greatest defense is her secret ability to shift into human form. Forced to flee into the mortal world with her family, Jacinda struggles to adapt to her new surroundings. The only bright light is Will. Gorgeous, elusive Will who stirs her inner draki to life. Although she is irresistibly drawn to him, Jacinda knows Will's dark secret: He and his family are hunters. She should avoid him at all costs. But her inner draki is slowly slipping away—if it dies she will be left as a human forever. She'll do anything to prevent that. Even if it means getting closer to her most dangerous enemy.
Review:
Firelight
is freakin' fantastic (Try saying that 10 times fast, it gets difficult). Not only was I like an excited little girl the whole time I was reading it, but I got this feeling that I was reading something special. Books like that have been few and far between recently, and nothing has made me want to run down the road demanding everyone read it IMMEDIATELY.
Firelight
did, though, and it's definitely one of my favourite books of 2010. It won't be everyone's cup of tea, but I loved it.
So, author Sophie Jordan comes from an adult romance writing background. And you can tell. The chemistry between Jacinda and Will sizzles on the page and, if it was possible, I'm sure my book would have caught fire. It's all about longing looks and shared space, and the fact that Jacinda can't get too close to him for fear of her Draki self appearing and scaring him away. It's a tough existence, but someone's got to do it.
Will (Oh, Will!), how I love thee. You've got smokin' hot hair, you're tall, you can fight, you're protective, and why can't you be mine right now?! I'm no dragon descendant, but seriously, I could learn how to sword fight or something. We could have fun. No? Okay. *sniffle*
While I love Will as a character, I also love Jacinda. She's pretty cool. She didn't annoy me in any way, she has lovely colourful wings, and she can totally look after herself. Yeah, she needs a hand every now and then, but who doesn't? When tall, dark and dreamy Cassian, a fellow Draki, stirs up some trouble, she handles it. Will also handles it, and it makes for some very tense scenes. Two beautiful guys squaring off against each other is always a plus in my mind, so I'm all for it.
The legend of the Drakis is so different from any YA I've read that it automatically put
Firelight
onto a pedestal. For me, there is nothing cooler than dragons, and here I get them on the same pages as hunter boys and smouldering romance. It really is a win-win situation.
Rock on, Sophie Jordan. Until next year.*
* I didn't mean that. I want the sequel, like, RIGHT NOW. Please?!