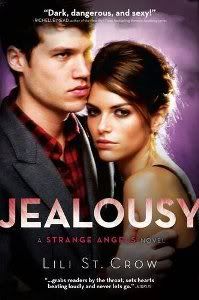 Publisher:
Quercus
Format:
Paperback
Released:
July 31st, 2010
Grade rating:
B/B+
Amazon summary:
Dru has made it to Schola, the leading school where the vampire-fighting Order is based. There she is up against the capricious Anna, the only other female who shares her powers. Dru must unlock the mystery of who betrayed her mother, battle her intensifying feelings for both Graves and Christophe, and try to stay hidden from Sergej's deadly nosferat - bloodthirsty hunters who'll stop at nothing to destroy her.
Review:
This series has been a bit hit and miss for me so far. I enjoyed
Strange Angels
, but had quite a hard time getting through
Betrayals
. I'm very happy to report that
Jealousy
is my favourite book in the series so far, and is just as good as
Strange Angels
.
As always,
Jealousy
picks up where the last book left off, and wastes no time in getting back into the world of djamphirs and wulfen. The first half is quite slow moving, with lots of character building, flashbacks and explanation of the Schola and its Order. Stick with it though, and you'll see that the last 100 pages or so plain rock, with my favourite character Christophe kicking some ass and a shocker of a revelation. Nothing's ever easy for Dru, and
Jealousy
does its job of hammering that point home (No vampire pun intended).
Speaking of Dru, I now actually like her. I was indifferent to her character for the last two books, having not quite connected with her personality or voice. However,
Jealousy
has shown me how vulnerable and human she is, even though she's a djamphir. She has hang-ups and issues just like everyone else, only she has to navigate them with the help of vampires and werewolves. She also utters some of her best snarky dialogue in this book, and show's the boys what's what.
One thing I keep noticing about St. Crow's writing is the realism within her words. She shows the non-glamorous side to Dru's life, including such mundane tasks as clothes shopping and food preparation. It's not something I've seen much in this particular genre of YA, and it's refreshing. Graves smokes (and is totally badass), Dru brushes her teeth and Christophe is just too darn possessive for his own good (It's endearing, don't get me wrong - I'm Team Christophe forever). The realism I'm rambling on about is hard to explain if you haven't read the series yet, but you'll see what I mean if you read it.
The
Strange Angels
series is definitely getting better with each book, and I'm really looking forward to
Defiance
. I just know that lots of action, shocks and memorable Christophe moments await me, all of which are high up on my list of awesome. If you like your paranormal YA a little more urban and mature, I think Lili St. Crow has just the thing you need. Her name's Dru Anderson. Look her up.