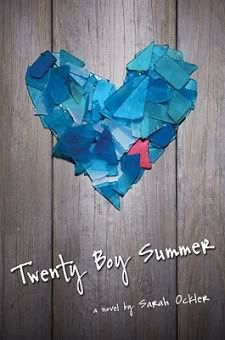 Publisher:
Little, Brown
Format:
Hardcover
Released:
June 1st, 2009
Grade rating:
A
Amazon summary:
According to her best friend Frankie, twenty days in
Zanzibar
Bay
is the perfect opportunity to have a summer fling, and if they meet one boy ever day, there's a pretty good chance Anna will find her first summer romance. Anna lightheartedly agrees to the game, but there's something she hasn't told Frankie---she's already had that kind of romance, and it was with Frankie's older brother, Matt, just before his tragic death one year ago.
Review:
I've had
Twenty Boy Summer
sat on my shelf since June 2009, and every now and then I'd think about reading it. I'm kicking myself for waiting so long, because it's amazing. Seriously, it's like a sunny summer day captured and preserved on a page, always there for everyone to see. It's the most moving book I've read that deals with grief and loss, aside from
Love, Aubrey
by Suzanne LaFleur. I started the book in tears and I ended it in tears, and that's all thanks to Sarah Ockler's beautiful way with words.
The fact that Anna had this sweeping romance with best friend Frankie's older brother, Matt, is heartbreaking in itself, but it's made even worse when you realise she hasn't told a soul. How anyone can keep a secret like that is beyond me; even if I promised someone, I know I wouldn't be able to do it. A secret like that would eat me up until I couldn't keep it for a minute longer, but to Anna, it's the one thing she has to do. Because she promised Matt she'd look out for Frankie.
Ockler writes about Anna and Frankie's grief like she's experiencing it herself, like she is those characters. Three chapters in and I felt like I already knew these people inside out, and by the end I felt like they were old friends, passing through for a fleeting visit before leaving for another adventure. Her descriptions of Zanzibar Bay, where Anna and Frankie holiday for 3 weeks in the summer, made me want to jump on a plane and go hunting for sea glass, even though I'm terrified of flying. I wanted to run my toes through the sand and see seals in the distance, while surfer boys sauntered past looking like magazine models. It sounds like the perfect way to spend a summer.
Although
Twenty Boy Summer
does sound like it's about 2 girls and their adventures with 20 boys, it really isn't. It's about how families and best friends deal with a huge loss in their lives, and how they move on without forgetting. The backdrop of sun and sand gives it a more lighthearted feel, though there's always an underlying current of something deeper. Matt's presence through memories and flashbacks lets you know him just as well as Frankie or Anna, and he's as much a part of the story as Zanzibar Bay. Like Anna, you'll fall in love with him, and you'll see his life forever etched on Ockler's pages.