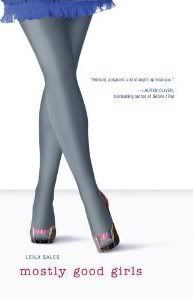 Waiting on Wednesday idea from Jill at Breaking the Spine.
-----
Mostly Good Girls
by Leila Sales
* Published by: Simon Pulse (US)
* Format: Hardcover (US)
* Release Date: October 5th, 2010 (US)
* On Amazon:

here





Amazon summary:
The higher you aim, the farther you fall….
It's Violet's junior year at the Westfield School. She thought she'd be focusing on getting straight As, editing the lit mag, and figuring out how to talk to boys without choking on her own saliva. Instead, she's just trying to hold it together in the face of cutthroat academics, her crush's new girlfriend, and the sense that things are going irreversibly wrong with her best friend, Katie.
When Katie starts making choices that Violet can't even begin to fathom, Violet has no idea how to set things right between them. Westfield girls are trained for success—but how can Violet keep her junior year from being one huge epic failure?
I hadn't heard of
Mostly Good Girls
until a couple of hours ago, when I saw
Lenore
,
Anna Jarzab
and
Forever Young Adult
talking, no,
raving
, about it on Twitter (yes, I'm addicted to Twitter). With recommendations this good, how could I not check out the book? It sounds awesome, has a great cover that reminds me of the UK
It Girl
covers, and also comes with a quote from none other than Lauren Oliver. Convinced yet? I am!