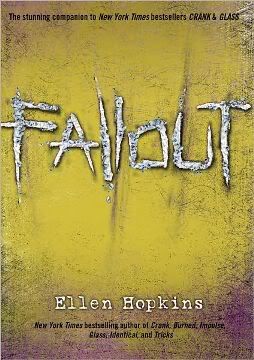 Publisher:
Margaret K. McElderry
Format:
Hardcover
Released:
September 14th, 2010
Grade rating:
A-
Amazon summary:
Hunter, Autumn, and Summer—three of Kristina Snow's five children—live in different homes, with different guardians and different last names. They share only a predisposition for addiction and a host of troubled feelings toward the mother who barely knows them, a mother who has been riding with the monster, crank, for twenty years.
Hunter is nineteen, angry, getting by in college with a job at a radio station, a girlfriend he loves in the only way he knows how, and the occasional party. Autumn lives with her single aunt and alcoholic grandfather. When her aunt gets married, and the only family she's ever known crumbles, Autumn's compulsive habits lead her to drink. Summer doesn't know about Hunter, Autumn, or their two youngest brothers, Donald and David. To her, family is only abuse at the hands of her father's girlfriends and a slew of foster parents. As each searches for real love and true family, they find themselves pulled toward the one person who links them together—Kristina, Bree, mother, addict. But it is in each other, and in themselves, that they find the trust, the courage, the hope to break the cycle.
Review:
Fallout
is the powerful, honest conclusion to Ellen Hopkins' life-changing trilogy that started with
Crank
and
Glass
. It's written in Hopkins' usual beautiful poetry, and is of the same high standard as her previous six books. While
Crank
and
Glass
focused on Kristina and how drug addiction broke her life,
Fallout
jumps nineteen years into the future where we meet three of Kristina's children: Hunter, Autumn and Summer. Each of these characters tells their story just as Kristina did, with as much vulnerability as their mother before them.
Hunter, Autumn and Summer don't know each other well at all. They're related, but in the loosest sense of the word. There's no happy Christmas celebrations or quality time for this family; instead they each live separately and stand in the shadow of Kristina's questionable choices. Hunter, Autumn and Summer all see themselves in Kristina, whether it be in the form of anger or addiction.
Autumn is probably the closest resemblance to her mother, thanks to unfolding problems with an alcohol addiction. She knows she doesn't want to end up like that, but current living arrangements don't offer much in the way of an alternative. Summer is oblivious to the fact she has several siblings out there, and is dealing with years of abuse from foster parents and her father's girlfriends. Hunter has girlfriend trouble, abandonment issues and a meeting with his real father for the first time in
Fallout
, and is finally faced with the man who raped his mother. Hunter is the one constant throughout this trilogy, and his inclusion in
Fallout
allows parts of Kristina's past to come together for the reader. The last nineteen years are unknown to us, though through newspaper articles and Hunter's recollections, Kristina's story comes full-circle.
Fallout
ultimately shows the aftermath of drug addiction, and how it affects a family as a whole. No one person is spared from the worry or hurt that years of
substance abuse
causes, and more often than not children of an addict can grow up with similar problems to their parents.
Fallout
says it's okay to move on from that, and that your parents don't define you. Sure, they structure your early life and guide you into adulthood but, at the end of the day, you're your own person. Don't let the past ruin your future -- make a change.
Ellen Hopkins has changed my own personal outlook on drug addiction and those affected by it. She's shown me that anyone can meet the monster, and that their perfect upbringing or straight-A school report has nothing to do with living a clean existence. I've never experienced drug addiction firsthand, but
Crank
,
Glass
and
Fallout
have spoken to me as if I had. They're incredibly emotional and moving reads, though they're not to be taken lightly.
Fallout
is a poignant end to Kristina's story, leaving you with the knowledge that no-one is perfect and that addictions can be overcome. There's very little in life that can't be fixed, you just have to possess the strength and determination to do it.