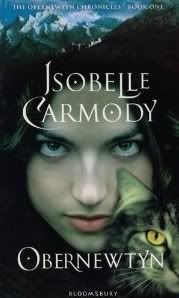 Publisher:
Bloomsbury
Format:
Paperback
Released:
June 7th, 2010 (new ed.)
Grade rating:
B
Amazon summary:
In a world struggling back from the brink of apocalypse, life is harsh. But for Elspeth Gordie, born with enhanced mental abilities, it is also dangerous. Survival is only by secrecy and so she determines never to use her forbidden powers. But it is as if they have their own imperative and she is brought to the attention of the totalitarian Council that rules the Land. Banished to the remote mountain institution of Obernewtyn, she must throw off her cloak of concealment and pit herself against those that would resurrect the terrible forces of the apocalypse. Only then will she learn most truly who and what she is ...Elspeth is determined to uncover the plot and so, accompanied only by her cat, Maruman, embarks on a terrible adventure full of danger, the conclusion to which promises not just uncertainty about her safety but also that of many around her.
Review:
It's been a while since I've read any YA fantasy, and I'd forgotten how much I love it. Other worlds, talking animals and magical abilities are some of my favourite things, so I'm really glad I got the opportunity to try
Obernewtyn
. Although it's not one of my all-time favourites, it's a strong start to this much-loved series, and I'm looking forward to reading on.
Elspeth Gordie is a brilliant character who deals with everything thrown at her. She's struggling with her own abilities and changes, but puts her own fears aside to try and uncover the secrets of the strange place that is Obernewtyn. Her world has almost been destroyed by a nuclear holocaust that hasn't left many survivors, and now anyone left with a mutation (ability) is declared a misfit and sent to work on farms. Every day is a struggle for Elspeth, as she fights to hide her ability and ensure her safety. She's brave and headstrong, and cleverer than she looks.
Maruman, a cat who can communicate with Elspeth, is my favourite character from this book. I love cats anyway, but to know one that talks is beyond cool. I really enjoyed his mysterious advice and knack for appearing just when needed, though I now have more questions than answers! I struggled with the slower pace of this book, though I did eventually get used to it. It's a departure from the straightforward YA I'm used to reading, but of course that's not a bad thing. Sometimes I like reading a story that gently peels back its layers, rather than racing through the plot in record time.
Obernewtyn
was written in 1987, which is the year I was born. You'd think it'd be dated now, but it really isn't. Isobelle Carmody was, if anything, ahead of her time. Post-apocalyptic worlds are big business these days, though I haven't come across many in a fantasy setting. Add to that the idea of ruling councils and oppressive states, and you get a story that is relevant to today's dystopian fiction you'll find doing the rounds.
I'm really interested to see where Carmody takes the story in the books following
Obernewtyn
, and how she deals with so many themes and issues within her writing. I'll be sure to read
The Farseekers
in the future, so I can continue Elspeth's journey with her.