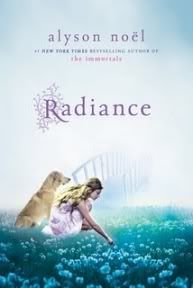 Publisher:
Square Fish
Format:
Paperback
Released:
August 31st, 2010
Grade rating:
C
Amazon summary:
Riley has crossed the bridge into the afterlife—a place called Here, where time is always Now. She has picked up life where she left off when she was alive, living with her parents and dog in a nice house in a nice neighborhood. When she's summoned before The Council, she learns that the afterlife isn't just an eternity of leisure. She's been assigned a job, Soul Catcher, and a teacher, Bodhi, a possibly cute, seemingly nerdy boy who's definitely hiding something. They return to earth together for Riley's first assignment, a Radiant Boy who's been haunting a castle in England for centuries. Many Soul Catchers have tried to get him to cross the bridge and failed. But all of that was before he met Riley...
Review:
Radiance
is one of those books I just couldn't get into, no matter how hard I tried. I almost didn't finish it, but I persevered and managed to get to the end. This time around, Alyson Noel's writing didn't captivate me and I felt so detached from the characters. Although I liked Riley in the
Immortals
series, here I thought she was flat and one-dimensional. I'm not sure she was ready to carry a whole novel on her own, but I have yet to read the last
Immortals
book, so I'm not too sure if that would have made a difference.
Riley has now left her sister Ever, and has crossed over into a place called Here. She's enlisted as a Soul Catcher, and is assigned a teacher called Bodhi. He teaches her all the tricks of the afterlife, while accompanying her on her first mission back to earth. I liked the whole idea of Here, and the Soul Catchers helping trapped spirits find their way to their rightful place. Noel isn't short of good ideas, but I just don't think Riley was the right person to take this one forward.
Riley and Bodhi's relationship didn't strike a chord with me, and I really couldn't have cared less what happened to them. I did like the Radiant Boy stuck haunting an English castle, as he had an interesting personality. His resolution was also written well, and made the ending worth getting to. I think
Radiance
was just one of those books that wasn't for me. I know plenty of other readers seem to have enjoyed it, and I'm sure it'll do really well with middle graders. I might still be tempted to give the second book a go, but I won't be eagerly awaiting it.