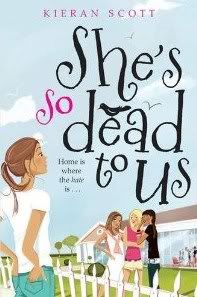 Publisher:
Simon & Schuster
Format:
Paperback
Released:
September 2nd, 2010
Grade rating:
B+
/A-
Amazon summary:
Home is where the hate is... Ally Ryan's back in Orchard Hill, a place she vowed never to set foot in again. Not after the trauma of her family fleeing their home in shame when her dad's business dealings almost bankrupted their local community. Now she's moved back, but her old 'friends' are cutting her dead. And while she may have outgrown the country club-trust fund-new car every year-lifestyle, they certainly haven't - and they won't let her forget that now she's living on the wrong side of the tracks. As if dealing with past demons and current grudges isn't enough, now Ally's met the handsome, wealthy and totally into her Jake Graydon, who just happens to live in her old house and be part of the clique that's rejected her... complicated much? Ally was hoping to start her life over again, but she's learning that some things just can't be forgotten...
Review:
I absolutely love books like this. For some reason, the inner workings of US high school hierarchies and scandal between friends sucks me in straight away. I'm guessing it's because my own high school experience was nothing like that in the slightest, though it might just be because I love mean girls and gossip. And why, yes, I am a fan of the
Mean Girls
movie! However did you guess?!
Speaking of movies,
She's So Dead To Us
would make a great teen flick for the big screen. Honestly, the whole time I was reading it, I was imagining a cast of impossibly perfect actors in my head. I think it'd be like
10 Things I Hate About You
meets the aforementioned
Mean Girls
, complete with rich cliques and a hot romance worthy of Patrick and Kat fans' approval. Hollywood, are you listening?! Buy the rights! Now!
The one thing that really shocked me about
She's So Dead To Us
is the behaviour of Ally's so-called friends. I mean, do people really act like this in real life? Is it even possible to stoop to such a low level? If it does in fact happen, I'm glad I never experienced it. If I was in Ally's shoes (which, thankfully, I'm not), I'd have got the heck out of Orchard Hill pronto. You'd have heard my bike tyres squealing on the way out of town.
For the students of Orchard Hill High, life is all about class and how much money your parents have and, if you don't fit into that mold, they pretty much diss you (Then label you as a "Norm". Nice, eh?). Ally does a great job of dealing with her past and her old friends ("Cresties", to those in the know), though her attraction to nice guy hottie Jake complicates things more than she'd like. Their relationship develops so well and realistically, and actually spans months rather than days. It's a refreshing take on YA romance, and a welcome one at that.
Kieran Scott's writing is contemporary and snappy, and her stories are always addictive to the point of forfeiting sleep so you can find out what happens.
She's So Dead To Us
-- with its cast of shocking characters, sweet romance and a memorable high school setting -- is no exception, and is well worth your hard-earned cash. I'm not actually sure if this is a series, but after that ending, I really hope it is. Talk about a maddening cliffhanger!