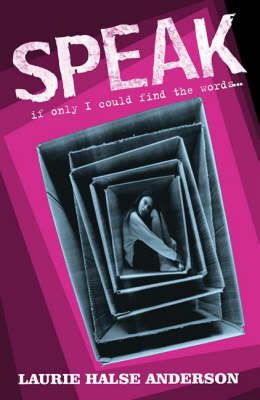 By now I'm sure most YA bloggers out there have heard about the guy who wants to ban Laurie Halse Anderson's
SPEAK
, and how he wrote an article likening rape to pornography. If you haven't yet heard about it, you can read what Laurie herself has to say
here on her blog
.
Now I don't usually blog about things like this. Not because things don't bother me, but because people say everything so much better than me. However, I feel the need to join in this time, because what this man said was disgusting and plain wrong. Rape is not pornography. It's anything but. Rape is a crime, an attack, an abuse.
I'm a firm believer that books should never be banned, no matter what people say about them. Banning books is not a good thing to do: what will kids turn to then? What will help them get through day-to-day life? Without the freedom to read, what do we have left?
If you're on Twitter, follow the #SpeakLoudly hashtag. People all over the world are speaking up for
SPEAK
, and rightly so. If you haven't seen it already, here's a video of Laurie Halse Anderson reading
Listen
, a poem she wrote that's made up of letters and emails from readers of her book.
I know it's not a huge help, and it won't make an impact in the grand scheme of things, but I'm doing it anyway: I'm giving away a copy of
SPEAK
. If
The Book Depository
will ship to your country, you're eligible to enter. I'm paying -- they're shipping.
Closing date is September 27th
. Just leave your name and email address below, and you're good to go.
Don't forget to Speak Loudly for
SPEAK
!