I did a cover feature for Hush, Hush last year, and obviously I couldn't resist doing the same for
Crescendo
. Thanks again to Bec and James for their time and thoughts!
-----

Cover Feature:

Crescendo
Author:
Becca Fitzpatrick
Cover photographer:
James Porto
Published by:
Simon & Schuster
Release dates:
October 19th, 2010 (US), October 14th, 2010 (UK)
Becca's Thoughts on the Cover:
I think it's a common misconception that authors get a lot of say, or any say for that matter, in the covers of our books. I say this, because one of the most common questions I get is some variation of, "Why did you decide to give
HUSH, HUSH
the cover you did?" I feel incredibly grateful that my publisher consulted me and valued my opinion as much as they did, especially now that I realize how rare this is. Typically, when an author receives their cover, they're told, "Hope you like it. Because if you don't, too bad!"
Knowing this, I wasn't sure how much say I'd get in
CRESCENDO
's cover. It did cross my mind that maybe my experience with
HUSH, HUSH
's cover was a chance happening. So I braced myself with the age-old advice: Expect the best, but prepare for the worst.
In November 2009, my editor sent me the first cover comp for
CRESCENDO
. I was nervous to open the file, because I was having a hard time picturing how James Porto, the photographer, would ever come up with something to top his work on
HUSH, HUSH
. My hesitation only lasted a moment—burning curiosity got the better of me!—and this was what was waiting for me.
I immediately emailed James, telling him how thrilled I was with the early concept. He wrote back, using phrases like "broiling texture" and "sexual tension," which were spot on. In
CRESCENDO
, Patch and Nora's love is thrown into the frying pan...and if that's not enough, the heat is cranked up. As Nora begins investigating her father's murder, certain things aren't adding up. And if she can believe her eyes, Patch is the man who everything points back to. As you can imagine, this knowledge has the power to tear them apart.
Of course, while
CRESCENDO
's cover was coming together, I was also deep in the middle of some sizable rewrites to the story. During the rewrites, quite a few story elements changed. Without spoiling anything, I will say that an old villain was replaced by a new villain. I knew I wanted this change reflected on the cover, but I wasn't sure how to ask my publisher and James Porto to convey it.
In February 2010, while I was on tour with Lisa Mcmann, I received an updated version of the cover, and instantly knew what was lacking.
I wrote my editor back, requesting a small but important change. I had my fingers crossed that she'd agree with me, and...she did! After months of tweaking and fine-tuning, we had our cover!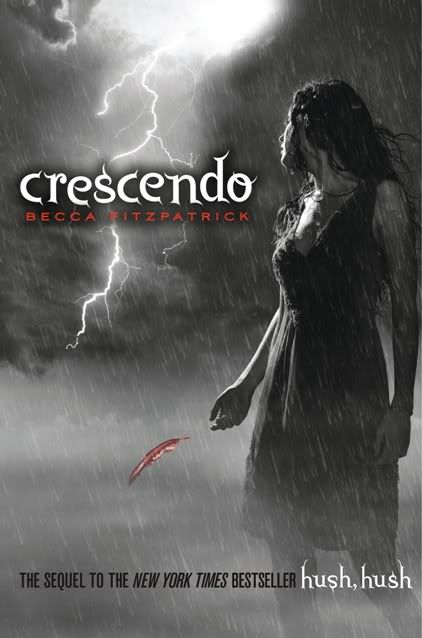 -----
James's Inspiration Behind the Image:
Lucy Cummins from Simon and Schuster called me to assign the
CRESCENDO
cover with the concept that it would include both Patch and Nora this time, and that they should be in a rainstorm. The budget was lower so we couldn't afford to do a new photo shoot and had to rely on the material we shot for
HUSH, HUSH
. We had some excellent figures of Patch from the original shoot but Nora's images didn't work at all.
We made a rough composition and I urged Lucy to lobby her publisher for the budget to photograph Nora, wet, with new wardrobe, and to fit into our composite with Patch. She did so successfully and, well, the shoot was a resounding success. I tried 10 or 12 different backgrounds with both figures in the image and it looked pretty good, but Lucy felt the image was stronger with just the figure of Nora and I agreed, it was simpler and more iconic. We added her letting go of the feather to give it some tension and action; I finessed the image and sent it in.