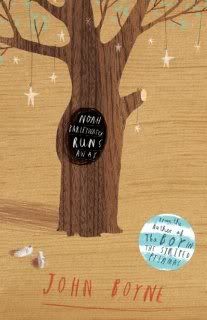 Publisher:
David Fickling Books
Format:
Hardcover
Released:
September 30th, 2010
Grade rating:
A-
Amazon summary:
Noah is running away from his problems, or at least that's what he thinks, the day he takes the untrodden path through the forest. When he comes across a very unusual toyshop and meets the even more unusual toymaker he's not sure what to expect. But the toymaker has a story to tell, a story full of adventure, and wonder and broken promises. And Noah travels with him on a journey that will change his life for ever.
Review:
I've been waiting for a new children's book by John Boyne ever since I first read
The Boy in the Striped Pyjamas
, which is one of my all-time favourites. The wait was so worth it, because
Noah Barleywater Runs Away
is fantastic. It's unpredictable and beautifully written, with a main character you will fall in love with. It also includes fantastic illustrations by Oliver Jeffers, which compliment the story really well.
8-year-old Noah Barleywater, an innocent and determined young boy, runs away from home because he wants to experience the world and have adventures. At first I thought this was the whole point of the story, and I wasn't expecting the journey I was taken on, or the conclusion Noah's tale reached. On his travels through the villages, he meets talking animals (I loved this aspect of the story, it was very Narnian), a beautiful tree and an enigmatic old man who lives in an amazing toy shop. During his day with the old man, Noah learns some valuable life lessons, and gains a new friend in the process.
The old man's story unravels chapter by chapter, as he delves deeper into his memories to show Noah that not everything in life is as it seems. He subtly imparts wisdom and advice, while talking fondly of his father and relaying his own childhood as a famous Olympic runner. Interspersed with the old man's story is Noah's account of his own life as an 8-year-old, complete with revelations and admittances that are sure to make many a reader find tears in their eyes.
Noah Barleywater Runs Away
is a lovely story wrapped in magic and fairytale, and has reminded me how much I love John Boyne's writing. Readers of all ages will find something charming about this story, and it'll make you think about your own actions and how time moves a lot quicker than we think. I highly recommend it to everyone, whether you're old, young or just an 8-year-old boy looking for an adventure.