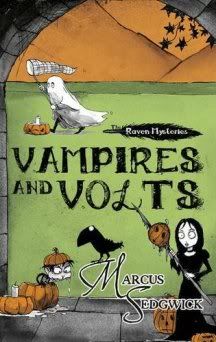 Publisher:
Orion
Format:
Hardcover
Released:
October 7th, 2010
Grade rating:
A
Amazon summary:
It's Halloween and the Otherhands are enjoying the Annual Pumpkin Hunt. And pumpkin fun aside there are preparations to be made, at short notice, for the Great Halloween Ball at Otherhand Castle. Minty is all a-fluster. Solstice is busy spraying fake cobwebs everywhere. Valevine is in charge of disorganising everyone's carefully laid plans, and Cudweed seems hungrier than ever and oddly preoccupied with 'fresh brains'. It's not long before wily Edgar works out that there's a preponderance of vampires and not all of them have false teeth. Just when he's about to solve the latest mystery at Otherhand Castle, the lights go out...
Review:
Just when I thought the
Raven Mysteries
series couldn't get any better, along came
Vampires and Volts
. I think it's the best since book 1,
Flood and Fang
, which I absolutely loved. I guessed I'd probably like this one thanks to vampires being involved, but I didn't expect it to be so funny. Marcus Sedgwick makes me laugh with the smallest flippant comment, which I think is a great writing talent to have!
So, in
Vampires and Volts
, it's Halloween and nothing at Castle Otherhand is running smoothly. Minty takes an embarrassing tumble at the Halloween Ball the Otherhand's find themselves hosting (they get the gig through very unfortunate circumstances, hehe!), Cudweed seems to be more undead than alive and poor old Edgar the raven is left to once again sort everything out. There's also a visitor to the Castle that brings some drama of his own... eek!
I've been waiting for
Vampires and Volts
for ages, as Sedgwick writes vampires so well (check out
My Swordhand is Singing
if you haven't already!) and they're my favourite supernatural creatures. I knew that when Lord Valevine and Co. met up with some actual real monsters, they'd wreak havoc and make things ten times worse. Even I couldn't have predicted Cudweed's hilarious problem, though I should have guessed he'd draw the short straw!
If there was any way to make Orion publish book 5,
Magic and Mayhem
, tomorrow, I'd be at their offices banging on their door. Mr. Sedgwick tells me it features lots of non-evil bunnies, which I can't wait to see. I predict it will be hilarious, and I'm just keeping my fingers crossed that Edgar doesn't fancy a tasty fluffy treat... Wish me luck with the wait until publication in April 2011! (Sob!)