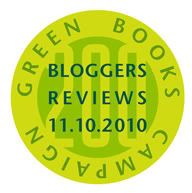 On Wednesday November 10th, at 1pm EST, 200 bloggers will simultaneously publish reviews of 200 books printed on environmentally-friendly paper. By turning a spotlight on books printed using greener methods, Eco-Libris aims to raise consumer awareness about considering the environment when making book purchases. This year's participation of both bloggers and books has doubled from the event's inception last year.
The 200 books to be reviewed are in a variety of subjects including cooking, poetry, travel, green living, and history, and come from 56 publishers from the U.S., Canada, Australia, and the U.K. that are participating in the Green Books Campaign. This diversified group of publishers includes both small and large presses who all print books on recycled and/or FSC-certified paper.
Find out more
here
.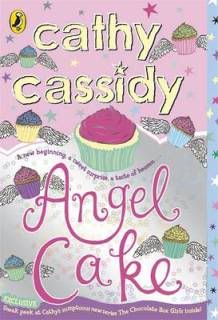 Publisher:
Puffin
Format:
Paperback
Released:
April 1st, 2010
Grade rating:
B+
Amazon summary:
Anya used to dream of moving to Britain to start a brand-new life. But as she sits in a school where nobody understands her, she dreams of Polish summer skies and the place where she once belonged. Then Anya meets bad boy Dan. He's no angel, but she's sure there's a sweeter side to him. And when things begin to fall apart, Anya realizes she's not alone – how can Dan be such bad news when being with him feels like heaven?
Review:
Cathy Cassidy is such a brilliant writer for teenage girls, and I'm actually a little horrified at myself for not reading her books much, much sooner. Although her books are aimed at girls in their early teens, I still really enjoy them, and am always left with a strong desire to read more. (I've got my eye on a 3-book boxset at work, which I'm sure has my name on it!)
Angel Cake
's story centres on Anya, a girl who moves from her home in Poland to be with her dad and his new job in Liverpool. As you can imagine, a huge life upheaval like this is hard and emotional, and Cassidy does a fantastic job of communicating Anya's fears of moving to a whole new country. She leaves her friends and school behind, and basically treads unknown ground in England, not knowing who she'll meet or what will happen to her along the way. I've never been in Anya's situation, but I felt for her - I don't think I could ever do what she did, as I'm far too attached to my home and my life.
Anya, with the help of her hard-working parents and quick-to-adjust sister, soon makes new friends of her own, and attracts the attentions of school bad boy Dan. Now, Dan might be perceived as a fire-lighting hooligan, but really he's the complete opposite. His journey is almost as gripping as Anya's, and his budding friendship with her is sweet, if a little predictable.
Even the secondary characters, Kurt and Frankie, are well-rounded and realistic, and are both just as interesting as Anya and Dan. I found myself completely invested in each of their lives, as well as the lives of Anya and Dan's parents and Dan's mum's cake shop. I was on tenterhooks throughout the latter half of the book, as things get very tense for our characters. Still, what good book doesn't include a bit of drama?!
Angel Cake
is a fab read, and will probably leave you daydreaming about swoonworthy boys and yummy cakes. It's about change, friendship and taking chances and, aside from its occasional predictability and convenient plot, I have no other complaints. I'm a Cathy Cassidy fan!