Last Tuesday, November 2nd, I attended Becca Fitzpatrick's signing event at Waterstone's in Deansgate, Manchester. I'd previously (finally) met Becca a couple of weeks ago at the Eternal Twilight 4 convention (which I'll write up soon), so I already knew just how cool she was. Also in attendance at the event were Aly from
Fantasy4eva
and Iffath from
Love Reading X
, as well as my blog header designer Sherry - great to meet/see you all!
I got there an hour before the event to help my friend who works at Waterstone's set up chairs and books, and had a good chat with Becca and the awesome Kat from Simon & Schuster beforehand. We mostly talked about books (surprise, surprise!) and UK/US differences. I *think* both myself and Becca are now clear on our differing school systems, which can be a tad confusing at times!
Becca kicked off the event by talking about how
Hush, Hush
came to be published and how she got the Best Cover Ever (my words, not hers), before opening the floor to audience questions. She answered all sorts, from NaNoWriMo enquiries to how she came up with Patch's names. I also learnt something I didn't know: the cover image of Patch was originally supposed to be the other way around, with his feet near the top of the cover. I'm so glad it was changed!
After the event, Becca signed books for ages, as there were over 60 people there I think, and most with multiple copies! I got a few things signed - a
Crescendo
postcard, my UK hardback copy of
Hush, Hush
, her short story in the
Kiss Me Deadly
anthology and my treasured
Hush, Hush
poster.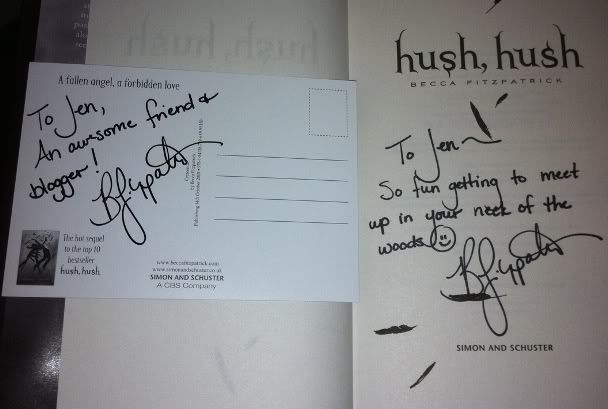 Then Becca signed all the left over Waterstone's stock while I interviewed her - that will hopefully be posted soon, as soon as I have time to transcribe it all. Let's just say I now know a few exciting things about what's to come for Becca in the future, and I can't wait! From there I shared a taxi/cab with Becca and Kat back to Manchester train station, and had another good chat about UK/US driving differences, weather, where we live and, of course, books.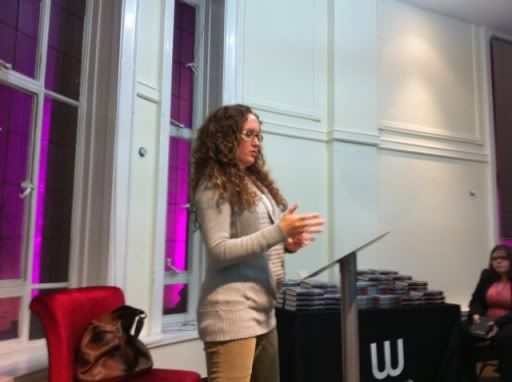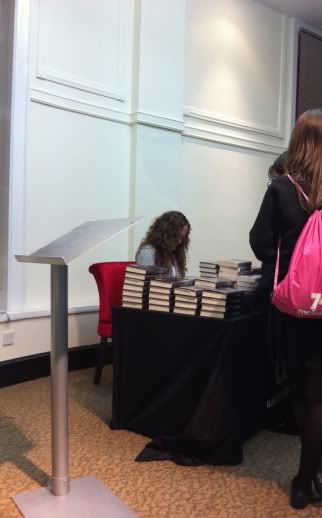 I'm so glad I got to spend some time with Becca, as I think of her as a friend as well as an author I admire. We've been talking over email for about a year and a half, and meeting her is definitely one of my 2010 highlights. Many hugs and book recommendations were exchanged, and I now have some new books to hunt out and read. I hope Becca comes back to the UK soon -- we all love her!
Thanks, as always, to S&S UK for letting me hang out with them and interview Becca. I know I say this all the time, but you guys really are the best!