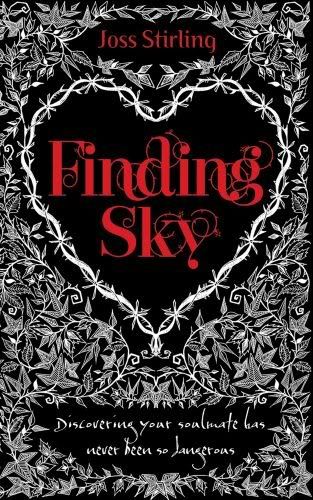 Publisher:
OUP
Format:
Trade paperback
Released:
October 7th, 2010
Grade rating:
B/B+
Amazon summary:
You have half our gifts, I have the other... When English girl Sky, catches a glimpse of bad boy Zed in her new American high school, she can't get him out of her head. He talks to her with his thoughts. He reads her mind. He is the boy she will love for ever. Dark shadows stalk her past but a new evil threatens her future. Sky must face the dark even if it means losing her heart.
Review:
I was really surprised by
Finding Sky
. I'll admit I did judge it a bit before I read it, especially because of its black cover that reminded me of so many other paranormal books out there. However, once I started reading, I realised it was something completely different - instead of vampires, wolves or angels, it was about mind reading savants with unusual gifts and talents. So kudos to Joss Stirling for mixing things up, and for not following the popular creature crowd. It was good to have a change!
Sky was a pretty cool character, with certain qualities and traits that I liked - stubbornness, loyalty and a believable amount of independence. She takes to her new American surroundings surprisingly well, making friends and learning about the cultural differences almost instantly. She soon meets Zed Benedict, notorious bad boy and one of seven brothers - surely nothing good can come of that, right?! Besides his awful name (which I'll come to soon), Sky and Zed did actually fit quite well. They had chemistry and, even though their relationship progressed quickly as is the recent trend, it seemed real enough. I believed it, which is always a plus for me when it comes to YA romances.
Now, on to Zed Benedict. I liked him, but hated his name. I really tried to get past it, but who on earth is called Zed?! It just sounded so alien in my head, and I know Stirling was probably going for something cool and cutting edge, but it didn't work for me. Aside from that and his occasional pushiness, he was probably my favourite character. He was bad ass, and his family were just hot - seven savant brothers is *never* a bad thing!
The paranormal element to
Finding Sky
definitely interested me, as I don't think I've come across savants before. I've encountered mind reading in various incarnations, but never quite like it was presented here. I also really liked the crime type plot in the latter half of the book, as it kept me guessing and added a sense of danger to the story. I wasn't expecting it to take the turn it did, but I enjoyed it - probably more than the first half of the book, which focused on Sky and Zed's budding relationship.
Overall, I was pleasantly surprised by
Finding Sky
, and I think you will be too. As a paranormal debut for this author, it was a strong start and I think future books in the series will be even better. I'm looking forward to the sequel, which I hope will feature more of the Benedict brothers... more Xavier, please!