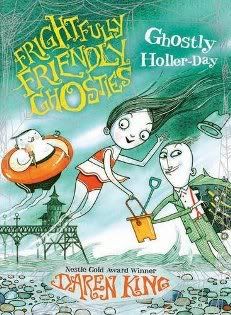 Publisher:
Quercus
Format:
Paperback
Released:
September 2nd, 2010
Grade rating:
B+
Amazon summary:
It's winter and what better than a ghostly holler-day by the sea? But how are Tabitha Tumbly, Charlie Vapour, Humphrey Bump and the other ghosties to decide between Frighten-on-Sea and Scare-borough? A postcard from their friend Headless Leslie decides for them: Headless is in Frighten and cannot remember how to get home. He wrote the address on the postcard, then he forgot what the address was. I'd lose my head if it wasn't screwed on which it isn't.' So the friends descend on Frighten and set off on an exciting ghostie caper, involving a haunted Frighten pier, a mysterious phantom magician, a fun fair and an extremely infuriating Headless Leslie.
Review:
Ghostly Holler-Day
is the second in the
Frightfully Friendly Ghosties
series, written by Daren King and illustrated by David Roberts. It tells the story of a group of friendly ghosts who go on a holiday to Frighten (hehe) to find their missing ghosty Headless Leslie. As you can imagine, nothing goes to plan, and locating their headless friend isn't as easy as it sounds.
When I was little, this is exactly the kind of thing I'd have read. It's a funny, cleverly written story for younger readers, and is the perfect lead-in to slightly older, scarier titles like
Goosebumps
and
The Saga of Darren Shan
. My personal favourite part of it are the quirky ghost names, including our chivalrous narrator Charlie Vapour, Humphrey Bump, Agatha Draft and Wither. Each name (including those of places, for example Frighten-on-Sea and Scare-borough) relate to ghosts in some way, which I think is pretty genius. Kids will love it!
Roberts' illustrations compliment the text brilliantly, adding that extra charm to the overall package. When human, the ghosts were alive in many different time periods, and it's great to see their differences through the pictures. One particular illustration in Chapter 10 made me feel really sorry for poor Wither: he's sat on a ghost train all by himself, hoping it'll take him home. All together now: awww!
I'm going to go back and read the first
Frightfully Friendly Ghosties
book as soon as I get chance. They're quick reads for me, but well worth it nonetheless. If all ghosts were this friendly and kind, I'd quite like to be friends with them myself. I think they'd be quite useful in a crisis, and I'd be more than happy to take them on a ghostly holler-day!