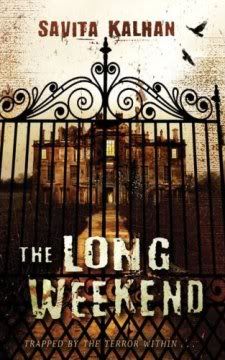 Publisher:
Andersen Press
Format:
Paperback
Released:
October 2nd, 2008
Grade rating:
A
Amazon summary:
Sam knows that he and his friend Lloyd made a colossal mistake when they accepted the ride home. They have ended up in a dark mansion in the middle of nowhere with man who means to harm them. But Sam doesn't know how to get them out. They were trapped, then separated. Now they are alone. Will either of them get out alive?
Review:
It's not often that books scare me, but
The Long Weekend
freaked me out. I knew it would most likely be a hard read from the summary, but I never thought it would terrify me. I was lying in bed literally holding my breath for most of it, more tense than I've ever been when reading a book. Savita Kalhan managed to get inside my head and under my skin in only 180 pages, which I think is a genius thing to be able to do. Just thinking about it again now is giving me the creeps!
On a serious note,
The Long Weekend
is so scary because of how realistic it is. We hear about children and teenagers being abducted all the time, with some being found alive and others sadly not. That in itself is frightening, and very, very real.
The Long Weekend
draws on these real-life abductions, and pulls you into a nightmare world. There were times when I had to stop reading for a few minutes, just to pull myself back from the high intensity of the story. I'm 23 and a huge fan of all things horror, but abduction and intent to harm isn't my strongest point - I don't like anything like that, which is why I can't watch the
Saw
movies!
Anyway, back to the story. Sam and Lloyd are innocent, unassuming 11-year-olds, who are lured away from their school. The way that happens took me a while to get my head around, as I couldn't help but wonder if these boys would have let it happen so easily. Then I remembered what it's like to be 11 years old and realised that, yes, they would be so trusting and think nothing of what they were doing.
I don't want to spoil any part of this story, because you just have to read it and let it all play out. I will say that it's incredibly tense and will have you on the edge of your seat, and possibly with your hands over your eyes and your breath caught in your throat. Seriously, it's that terrifying. Or it was for me, anyway! Sam and Lloyd both show different types of courage and strength, and their ordeal is unforgettable.
The Long Weekend
deals with some mature issues, including child abuse and kidnapping. It's one of the most realistic books I've read, and has left a lasting impression on me. I'll be recommending it to every YA reader I know, and I don't understand why it hasn't been a bigger hit here in the UK. It certainly deserves to be.