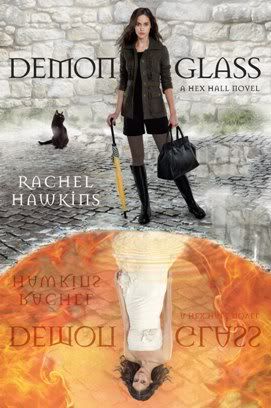 US // UK
Along with the cover designs, there's another interesting US/UK difference here: title changes! I quite like both so don't mind it, but I wonder why it was changed from
Demonglass
to
Raising Demons
in the UK? *ponders*
Anyway, back to the covers. I like both! The UK series is getting a makeover (I think), with
Hex Hall
due for a new cover too. I liked the original, but I can see what Simon & Schuster are doing here, and I think it works. I love all the shades of purple, and I'm more of a fan of this layout - Rachel's name is in a better place, and the model looks all mysterious and magic. I can totally imagine her walking through the doors of Hex Hall, can't you?
I also like the US cover, though as with the US
Hex Hall
, I find it a bit too busy with how it's been laid out. The mirror image effect is really cool though, and I'm sure it will do its job of attracting book buyers over the pond. I'm now quite intrigued as to what is going to happen in this book - I loved
Hex Hall
, and I remember the US cover of that was pretty story specific, so we'll see if
Demonglass
is the same!
What do you guys think? Has Lady Hawkins hit the cover jackpot?