Lucy Weston, Vampire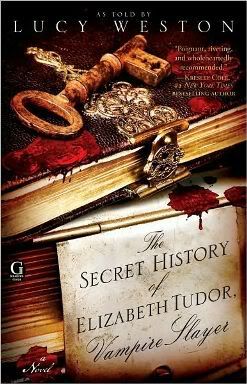 The Secret History of Elizabeth Tudor, Vampire Slayer
I first became aware of the existence of "The Secret History" on a night in London when I overheard a discussion in a very exclusive club where mortals rarely venture. Mordred, the most powerful and seductive of all the vampires, was holding forth on various episodes in his long , eventful career. In passing, he mentioned Elizabeth Tudor, who he claimed had recorded details of her life as a vampire slayer in a series of secret journals kept hidden during her reign and unseen since.
I was surprised as I had always assumed that the legend of the Slayer was apocryphal. That Elizabeth Tudor herself may have been that fabled being only heightened my desire to learn everything that I possibly could about whatever private writings she might have left.
Fog was creeping off the Thames, bringing with it the chill of late spring, when I left the club. I turned up the wide collar of my cashmere coat, tucked my hands into my pockets, and turned in the direction of the river. I maintained my pace and shortly came to the Victorian Embankment in the vicinity of the obelisk incorrectly attributed to Cleopatra. There I slipped into the shadows of the nearby trees and waited.
Swiftly enough, Mordred appeared. That was no coincidence; he had sensed my presence and had followed me, just as I anticipated he would do. We were not precisely enemies, not then, but he certainly knew that I had never accepted his transformation of me into a vampire a century before. I believe he seized on the opportunity to re-establish our acquaintance and take the measure of my animosity.
As it happened, I owned a houseboat moored a short distance from where we stood. We adjourned there and settled in the aft living quarters, where I poked up the fire in the fat-bellied Dutch stove. Technically, vampires do not feel the cold but a cherry fire has a certain psychological benefit, or so I have always found.
Mordred was in an affable mood that night, so much so that it was almost dawn before he concluded his story and departed. So riveting was the tale he told that, when I finally succeeded in discovering Elizabeth's secret journals, I decided to add Mordred's voice to her own. That seems fitting enough given the complexity of the relationship they shared.
It is my hope that the revelation of "
The Secret History of Elizabeth Tudor, Vampire Slayer
" will spark a new accord between vampires and mortals, to the benefit of both. For myself, I continue to evade both British Intelligence and the vampire kindred that seeks to stop me from revealing the truth. How long I will be able to do so is anyone's guess but be assured that I will try my best to stay in contact here and elsewhere.
Lucy Weston