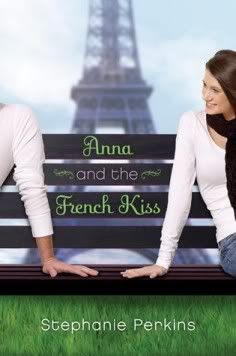 Publisher:
Dutton Juvenile
Format:
Hardcover
Released:
December 2nd, 2010
Grade rating:
A
Amazon summary:
Anna was looking forward to her senior year in Atlanta, where she has a great job, a loyal best friend, and a crush on the verge of becoming more. So she's less than thrilled about being shipped off to boarding school in Paris--until she meets Etienne St. Clair. Smart, charming, beautiful, Etienne has it all... including a serious girlfriend. But in the City of Light, wishes have a way of coming true. Will a year of romantic near-misses end with their long-awaited French kiss?
Review:
Helloooo amazing realistic contemporary YA book, where have you been all my life?! Ahh yes, of course, in Stephanie Perkins' imagination! In all seriousness, this book is ACE. Actually, it's like ace squared with some awesome thrown in. I want to hug it and reread it, and profess my undying love for the lovely, the beautiful, the brilliant: Etienne St. Clair. Talk about a hot character and he immediately springs to mind. He is *it*.
But that's not where my love ends, oh no. I love Anna. I love her quirky group of friends. I love the Parisian setting, and I love the cool boarding school life. Basically, I just want to live in this book. Everyone is realistic, everyone acts their age of 17/18 (Older YA characters! YES!), and everyone makes stupid mistakes that requires work to put right. Like I said, awesome.
I have one complaint when it comes to
Anna and the French Kiss
, and it's merely that it wasn't twice as long. I was so reluctant to put the book down, and as I neared the end I consciously noticed my reading speed slowing down so I could savour every sentence and scene with Etienne, who is of course the light of my life (*cue romantic music*).
If you like contemporary YA, or any YA at all, buy Stephanie Perkins' debut novel. This is one book buy you will not regret, and if you do, I will gladly take the blame for your ill-spent $16.99. I realise this review is of no help to anyone looking for a well-rounded, intelligent, balanced study of
Anna and the French Kiss
, but I don't care. There was only one way I could write this, and that was from the position of planning my life-long union with Etienne St. Clair. Apologies to all, and I hope you'll forgive me. ;)