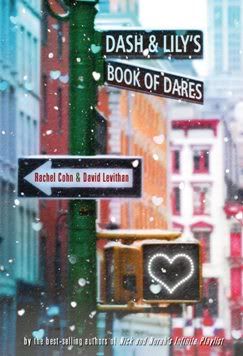 Publisher:
Knopf
Format:
Hardcover
Released:
October 26th, 2010
Grade rating:
B-
Amazon summary:
Lily has left a red notebook full of challenges on a favorite bookstore shelf, waiting for just the right guy to come along and accept its dares. But is Dash that right guy? Or are Dash and Lily only destined to trade dares, dreams, and desires in the notebook they pass back and forth at locations across New York? Could their in-person selves possibly connect as well as their notebook versions? Or will they be a comic mismatch of disastrous proportions?
Review:
I read this book because of all the rave reviews I'd seen from my fellow bloggers. I liked the sound of the premise, and the authors are two people who I've been meaning to try for a while. I've never read
Nick and Norah's Infinite Playlist
, which I realise is a crime against YA, so I thought
Dash & Lily's Book of Dares
would be a good place to start. I enjoyed it while I was reading it, but on reflection, it wasn't nearly as good as I thought it would be.
What I did really like was how well the authors obviously work, and write, as a team. I haven't read too many collaborative novels, so I'm no authority when it comes to pros and cons of authors writing alternating chapters. However, I do think it worked here, and although I preferred Dash's chapters (written by David Levithan), the flow was pretty seamless between the two. I didn't like Lily's voice as much, though that might just be because Dash outshone her in the character awards, rather than anything to do with Rachel Cohn's writing. I'm still pondering that one.
Where Dash & Lily's Book of Dares suffered, for me, was in its attempt to be clever. Some of the passages just lost me, and I've never to this day encountered two 16-year-olds who talk and think like Dash and Lily. They were very theoretical and advanced in their ideologies, and I personally don't think it worked. I'm a simple person at heart, and this kind of storytelling can grate on my nerves very easily. Again, that's just me as a reader, and I'm sure other readers probably haven't had the same problem.
On the romance side of things, I wanted more, seeing as Cohn and Levithan seem to go hand-in-hand with tales of teen relationships. The ending also left me a bit flat, though it did allow me to imagine what would happen in the future. I like ambiguity as much as the next person, but this time I wanted some semblance of closure.
Now, onto the good stuff. The premise. How cool is that? Leaving dares in a red moleskine notebook and waiting for someone to play along. Loved it. Reading about the Strand bookshop in NYC was also a great bonus, as that's one place I am determined to visit. Miles and miles of books... I need to go there! I also enjoyed meeting all of Lily's odd family members, as they provided much of the book's humour. Of course, I also loved Dash who, as I mentioned above, I much preferred to Lily. There was just something about him, and I'm guessing it was his sharp tongue and happy-go-lucky personality.
While
Dash & Lily's Book of Dares
perhaps wasn't the book for me, I can see why other readers loved it so much, and I am interested to see what Cohn and Levithan's other books are like. On the plus side, it has a very, very pretty cover. I can't fault that at all!