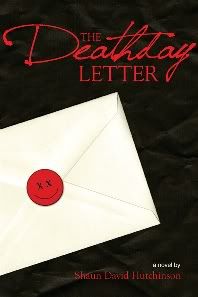 Publisher:
Simon Pulse
Format:
Paperback
Released:
June 15th, 2010
Grade rating:
B
Amazon summary:
Ollie can't be bothered to care about anything but girls until he gets his Deathday Letter and learns he's going to die in twenty-four hours. Bummer. Ollie does what he does best: nothing. Then his best friend convinces him to live a little, and go after Ronnie, the girl who recently trampled his about-to-expire heart. Ollie turns to carloads of pudding and over-the-top declarations, but even playing the death card doesn't work. All he wants is to set things right with the girl of his dreams. It's now or never.
Review:

I enjoyed
The Deathday Letter
, but I didn't like it as much as I thought I would. I never quite fell in love with the characters, though that doesn't necessarily mean anything was wrong with them. I didn't find myself rooting for Ollie and his life, which I think I should have been doing. The way he handled his situation may have been the cause of my indifferent feelings, but I'm not sure.
Shaun David Hutchinson's humour is something I have to mention, because the guy is seriously funny. There were more penis and death jokes in
The Deathday Letter
than I've ever seen in my life, which may sound a bit strange, but it's not. They kept me laughing all the way through the book, and gave a much appreciated insight into the mind of a teenage boy. Thinking of the General still makes me laugh, and if you read it, you'll know what I'm referring to.
Ollie was a funny guy, who dealt with his impending death remarkably well. If it was me, I have no doubt that I would have spent my last 24 hours crying in my room, cursing the world and wondering why me. Instead of wallowing in self pity, Ollie gets up, goes out and actually lives. He jumps off bridges, hangs out with the object of his affection, and even learns how to drive a stick shift car. What a last day!
Shane and Ronnie were good supporting characters, though again I didn't feel a particularly strong attachment to them. I liked their loyalty and dedication to Ollie and his deathday, and I don't think he could have found better friends. The plot itself was unusual and a bit on the wacky side, which made it that much more interesting to read about. Deathday letters are scary sounding little pieces of paper, and I hope I never see one!
The Deathday Letter
is a promising start to what I hope is a long YA career for Hutchinson. I'll read his humourous writing as long as he wants to put it out there, and I hope I get to meet him one day. I bet he's a laugh a minute, which is already quite apparant from his debut novel. I'm looking forward to seeing what he comes up with next.