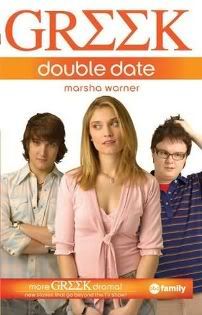 Publisher:
Harlequin Teen
Format:
Paperback
Released:
May 1st, 2010
Grade rating:
C
+
Amazon summary:
Two dates—
same
night! Major oops. When Casey Cartwright's brother begs her to be nerdy Dale Kettlewell's date to the sure-to-be-boring Honors Engineering Awards, Casey says yes. But now, that night conflicts with the biggest event of the semester, the All-Greek formal. Casey already has a date lined up: hot transfer student Rob Howell. He's her plan to get over her sexy-slacker ex, Cappie. And even nice girls get to be bad sometimes, right? What to do? With a little help from BFF Ashleigh, unwanted advice from frenemy Rebecca Logan and even a push from Cappie, what Casey does may surprise even herself….
Review:
Greek
is one of those shows I've been meaning to watch for years but have never gotten round to. It sounds like something I'd enjoy, what with the US college setting and emphasis on fraternities. We don't have those in the UK, though I think we do have one or two secret societies. Fraternities are things I've only ever experienced in films, and it all looks (and sounds!) pretty mad.
Greek: Double Date
is the first original novel based on the show, and takes what I'm guessing is a plausible storyline for these characters and college campus lifestyle. I read this being completely ignorant of the show and everything about it, which is why I don't think I liked it as much as I thought I would. I didn't know who anyone was and, while that isn't usually a problem I have with TV tie-ins, I really had trouble picking up the lives of the Greeks.
The plot itself is good enough, with double dates and romance being the main gist of things. Casey ends up being Dale's date for an awards ceremony, thugh it conflicts with the All-Greek formal, which is a pretty big deal to these students. Ex-boyfriends enter the picture, new boys are introduced and both events turn into teenage drama-filled almost-disasters. Basically, it'swhat would happen if the cast of
Gossip Girl
found themselves in an angsty college frat house.
Double Date
did lose me and confuse me on numerous occasions, but it did one positive thing: it made me want to watch the show even more. I'm dying to find out how these characters are portrayed on screen, and if Marsha Warner did a good job adapting them for the page. In tie-ins, the ability to channel a character's voice is the most important thing an author can do, and I'm looking forward to finding out if
Double Date
paid attention. Here's hoping it did.