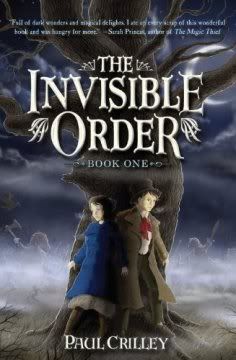 Publisher:
Egmont USA
Format:
Hardcover
Released:
September 28th, 2010
Grade rating:
A-
Amazon summary:
Emily Snow is twelve years old, supporting herself and her younger brother on the streets of Victorian England by selling watercress. One early winter morning on her way to buy supplies, she encounters a piskie--a small but very sarcastic fey creature that has been cornered by a group of the Black Sidhe, piskies from an opposing clan. She rescues him and unknowingly becomes involved in a war between the Seelie and the Unseelie, two opposing factions of fairies that have been battling each other throughout the long centuries of human history, with London--and England itself--as the ultimate prize. When the Invisible Order--a centuries-old secret society of humans that has protected mankind from the fey's interference--gets involved, things really start to get complicated...
Review:
Rise of the Darklings
is one of my favourite books of the year, but before being contacted by Egmont USA, I'd never even heard of it. I had no idea it existed. I accepted a copy for review because I knew it was about the fey, and I do love faeries and gnomes etc. Anyway. The bottom line is: I loved it! I loved it so much that I've been frantically searching for any news on book 2,
The Fire King
, and am seriously considering re-reading
Rise of the Darklings
in the meantime.
Paul Crilley set his story in Victorian England, which I think was a genius idea. The book doesn't come across as overly historical, though, which I liked. It wasn't slowed down with old English or clunky sentences, and instead it focused more on Victorian surroundings and the hardships of having to survive during that time. I enjoyed reading about London as it used to be, and I think Crilley got the setting spot on.
The characters in this book were also fantastic, and my favourites were Corrigan the sarcastic piskie and Mr. Pemberton the smartly dressed gnome. I looked forward to scenes with these two, as Corrigan's quick quips made me laugh out loud. Mr. Pemberton played off him nicely, even though they really didn't get on. How anyone can dislike a little gnome, I don't know! I suppose I should mention the human characters too: Emily and her brother William, and Spring-Heeled Jack. All were brave and resourceful, and were brilliant heroines. My one complaint would be that Emily always seemed older than twelve to me, especially where her actions were concerned. Of course, I'm sure children had to mature a lot faster back in Victorian times, and having not lived then I can't really comment on whether her behaviour was realistic or not. I'm guessing it was.
Some famous faces crop up in
Rise of the Darklings
, none of which I will mention here so as to avoid exciting spoilers. Let's just say I was surprised when one particular legendary dude turned up in Emily's life - he's like a master wizard and I wasn't expecting to see him in a story about faeries and the Invisible Order. Speaking of the Invisible Order, what a great idea! They know about the fey and try and protect the human race from being destroyed, all of which I think is pretty cool in the grand scheme of things. I can't wait to learn even more about them as the series progresses.
The Invisible Order: Rise of the Darklings
is such a fun book, and I'd recommend it to anyone in a heartbeat. It would be a good pick for middle grade and young adult readers, but also for adults too. Really just anyone who likes a good story with magical creatures and a war between good and evil. Oh, and did I mention how cute Mr. Pemberton is?! Everyone should read this book, and I'm going to make it my mission to spread the word. Now, come on 2011, hurry up and get here!