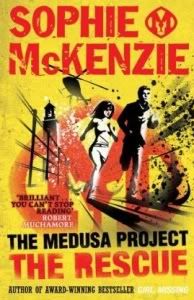 Publisher:
Simon & Schuster Children's
Format:
Paperback
Released:
July 8th, 2010
Grade rating:
B
Amazon summary:
Fourteen years ago, four babies were implanted with the Medusa gene - a gene for psychic abilities. Now teenagers, Nico, Ketty, Ed and Dylan have been brought together by government agents to create a secret crime-fighting force: The Medusa Project. Since their existence became known to members of the criminal underworld, they have been hidden away in a secluded training camp in Spain, where their identities are being kept secret. Life in camp is hard enough, but then things take a turn for the worse. Ed is blackmailed into using his mind-reading powers - and in doing so he threatens to endanger the whole Medusa Project...
Review:
I find
The Medusa Project
to be one of those series that is getting better with each new book. Now that everything is established, Sophie McKenzie dives straight into the fast-paced action her readers have become so accustomed to, and the plots are becoming more gripping as new characters and their powers are explored in greater detail.
I really liked
The Medusa Project
, wasn't a huge fan of
Hostage
, and am now back on even ground with
The Rescue
. So far Nico has been my favourite character or viewpoint, but I think Ed, the narrator of
The Rescue
, would come a close second. His power - the ability to read minds - is one of the more interesting Medusa gene mutations, just like Nico's telekinesis. Ed is the most vulnerable member of the group, he's compassionate and thoughtful, and I think his personality made for a different reading experience. I feel like I really got to know him, and in turn enjoyed his story more.
Where I think McKenzie's strength lies is in her plotting. She's all about the action and adventure, which makes
The Medusa Project
series perfect for readers who are looking for non-stop excitement and edge-of-your-seat tension. I think boys especially would get something out of these books, as they're in reminiscent of
Stormbreaker
or
Young Bond
. I might not get on as well with all four characters, but I can't fault the story. This one in particular is nail biting, thanks to the ambiguity of the Spanish camp and its inhabitants.
As with the other books in this series, there are convenient resolutions and over the top gadgetry used, but it all adds to the high-speed fun. It's kind of like
James Bond
for teenagers, y'know, if 007 had a cool power other than an invisible car and the ability to shoot straight from any location. I'm still amazed by the almost consistent standard of McKenzie's books, given that she writes so many. I'm starting to wonder if she has a superpower herself... it would certainly explain a lot!