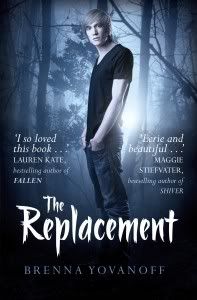 Publisher:
Simon & Schuster
Format:
Paperback
Released:
January 6th, 2011
Grade rating:
B+
Amazon summary:
Mackie Doyle is a replacement - a fairy child left in the crib of a human baby sixteen years ago, to replace the baby when it was stolen away by the fey. So though he lives in the small town of Gentry, Mackie's real home is the fey world of tunnels and black, murky water, a world of living dead girls ruled by a little tattooed princess. Now, because his fey blood gives him fatal allergies to iron, blood and consecrated ground, Mackie is slowly dying in the human world. Mackie would give anything just to be normal, to live quietly amongst humans, practice his bass guitar and spend time with his crush, Tate. But when Tate's baby sister goes missing, Mackie is drawn irrevocably back home to the fey underworld of Gentry, known as Mayhem, where he must face down the dark creatures, rescue the child, and find his rightful place - in our world, or theirs.
Review:
I first heard about
The Replacement
months and months ago, thanks to the kick-ass US cover. I had no idea what it was about, I just knew it looked good, like a creepy horror story with sharp implements and children going missing left right and centre. I was pretty surprised to hear that it was about the fey, but I was more than happy for it to take that particular route - I love fairies!
I say I love fairies, but usually they're nice, occasionally romantic ones. The fairies in
The Replacement
are nothing like that and, if I didn't know better, I wouldn't have said they were fey folk. They're dark, mean and evil, and not at all like what I'm used to. I was actually quite surprised at the tone of
The Replacement
, as I thought it would be a lot lighter. I liked the darkness though, and I don't think it's something we see an awful lot of in YA. It was violent and full of menace, but it worked so well, no thanks to the creepy town of Gentry. I seriously would not like to live there!
Main man Mackie took me a while to warm to. I liked him, but not as much as I thought I would. His love for music and his replacement attributes were fascinating, though, and I warmed to him more as the book progressed. I think part of my trouble with Mackie was largely due to the fact that his background and fey life wasn't explained enough. I was a bit confused to start with, but all became clear as I got to the end. Yovanoff's fey are nasty little people, aren't they?
The other side to the town of Gentry, with the Cutter, the Revenants and the Morrigan, was so well-realised that I often forgot I was reading YA. It could quite easily have been an adult horror novel in parts, because the underground world is so bleak and malicious. I loved it. Yovanoff's writing was also way above the debut author station, with beautiful descriptions and ideas jumping off every page.
The Replacement
really does stand out from the paranormal crowd, firstly because there isn't a single fanged or furry creature in sight. It's a more mature story than a lot of other stuff out there, and that becomes apparent after a handful of chapters. I think Brenna Yovanoff is definitely here to stay, and I look forward to reading whatever she writes next.