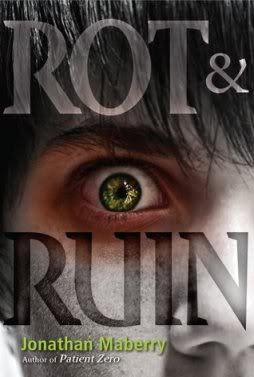 US // UK
The UK cover is my favourite here, thanks to the colours used and, in my opinion, better placing of the title. I like the dark red more than the black and grey, though I would buy either if I saw them on a shelf. I think the UK's title font also looks better, and the larger author name fits in well with the cover design.
The US cover seems too broken up thanks to the title placement, and doesn't come across as creepy as the UK one. Both use the theme of scared-looking eyes, though, which suggests this book won't be a fluffy zombie story but rather a nasty, decaying one.
What do you guys think? Do you have a preference?