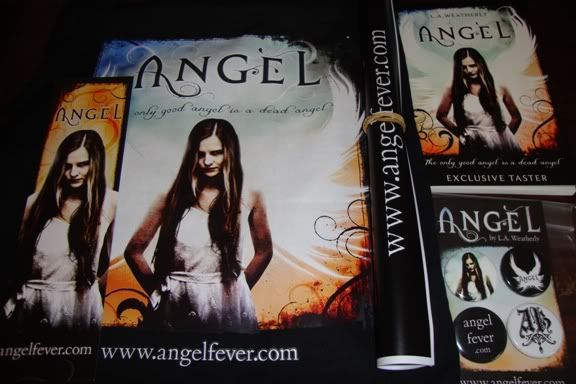 So last weekend I was at the Eternal Twilight 4 convention, where I met L.A. Weatherly and the lovely people from Usborne. They very kindly gave me an extra
Angel
goodie bag to give away here, which includes:
Tote bag
Bookmark
Poster (I'll have to fold this to send it - hope that's okay!)

Badges (signed on the back by L.A. Weatherly!)

Angel

chapter sampler
If you don't know what the book is about, here's a bit more info from Amazon:
Willow knows she's different from other girls. And not just because she loves tinkering around with cars. Willow has a gift. She can look into people's futures, know their dreams, their hopes and their regrets, just by touching them. She has no idea where she gets this power from... But Alex does. Gorgeous, mysterious Alex knows Willow's secret and is on a mission to stop her. The dark forces within Willow make her dangerous and irresistible. In spite of himself, Alex finds he is falling in love with his sworn enemy.
Rules & info:
Open

worldwide

!

End date: November 8th, 2010.

One entry per person

.

You do NOT have to follow my blog to enter.
Just fill in the form below, and you'll be entered! :)