Phil Earle is the UK debut author of
Being Billy
, which was published by Puffin on January 6th. He also works in publishing, originates from up north, names his kids after really cool literary characters and is never far from a YA book. Oh, and he's a really nice guy... look him up!
[Thanks to Puffin for the picture of me and Phil at his
Being Billy
launch party!]
----------
Hello, Mr. Earle. Tell us a bit about yourself!
Hello Jenny! Er, stuff about me... Well, I'm a thirty-six year old dad of three, who works for a children's publisher by day and writes once my kids are in bed, or when I'm on the bus home from the office.
I suppose the other stuff worth mentioning is that before publishing I worked as a carer in a children's home, as a dramatherapist in a therapeutic community, and as a kids bookseller for Ottakar's. I'm also a bit of a YA nutter who cant really see the point in reading much else....
Now, you not only work in children's publishing (for my favourite publishing house, I might add), but you've also written a book. What's it about?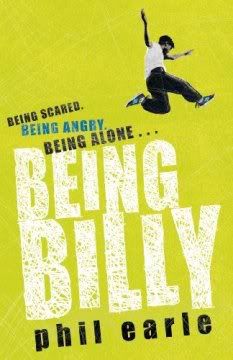 I suppose you could pitch '
Being Billy
' as a coming of age story with a difference, about a fifteen year old lad who's spent most of his life in care. By the time we meet him he's not only been rejected by his birth mother, but also by an adoptive family who took him in at the age of 11. He's angry, violent, messed up - he's stood on the edge of the precipice, and the story follows him as decides which way to jump.
Have you found that working in publishing has helped you as an author? If yes, how?
It definitely has. My job demands that I read a lot, (mostly unedited manuscripts that are being offered to us), and when you do that you learn over time what works and what doesn't, how to pace your story, how to make each and every one of your characters integral to your plot.
Practicing your writing is obviously vital if you want to improve, but to me, copious amounts of reading is just as important. I've never had a single creative writing lesson in my life, but feel that all the books I've read have served the same purpose. Does that make sense?
Working in publishing also helped me understand the 'game' of getting published too. You know, how to make your writing sound attractive to agents and editors, knowing which are the best to approach with certain types of fiction.
I'm particularly fascinated by your background in working with children. Am I right in thinking it was the inspiration for Billy's story?
Yep, absolutely. I was really naive when I started working in the kids home. I was 21, straight out of Uni, and only three years older than some of the kids I was looking after. The thing that shocked me most about life there was to do with adoption. In my mind, once a child was adopted that was the happy ending to the fairytale. What I didn't realise was that many, many adoptions break down, often because the child has spent too long living in a home. For years they thought living with eight other kids and a constantly changing rosta of carers to be normal, so when they are faced with two parents and maybe one sibling? Well they often can't cope, neither can their new parents, and they end up back in the home that they started in. This was the inspiration for Billy's story. Being loved and being part of a family should be the most fundamental thing for any kid, so how on earth do you see the world, or feel about yourself, when by the age of eleven, you've been told TWICE that you aren't wanted. It's fifteen years since I worked there, but I've never been able to let go of how how must make you feel. That's why I wrote it down.
Why should we read

Being Billy

?
So I can afford to feed my three angelic children....
Oh and also because Billy isn't your average literary hero. When you first meet him he doesn't seem to be heroic at all. He's violent, foul-mouthed and incapable of trusting anyone. But as a writer that's the best thing about him. What I desperately wanted to do was slowly reveal why he behaves as he does, to dig away at his bravado, and show him in his true colours, not as the kid you'd cross the road to avoid, but as a hero in the truest sense. I wanted to be true to the kids to the kids I'd worked with. They'd taken so many kinds of beatings in their lives, but they had more guts, determination and heart than many of us who had a 'normal' upbringing. They deserve to be heard.....
What's the best Phil Earle: Author moment you've had so far? Signing books, perhaps? Talking to school children?
There are two big highlights amongst many.
I have a terrible blackberry addiction, and it was incredible to wake one morning to find an email from Morris Gleitzman, telling me he'd not only read, but enjoyed '
Being Billy
'. That was a special moment and it's brilliant to see his quote and others from authors I look up to, on the back of the book. The second highlight was my first school event a few weeks ago, talking to sixty boys. To hold their attention for an hour, and to see them really engaged with Billy's story? That's a moment I'll carry around for a long time.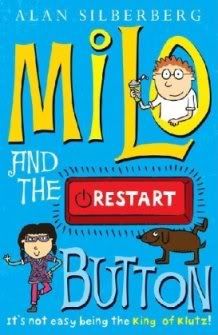 Which 2011 book releases are you excited about?
Oh blimey, that's a loaded question. I must mention many Simon and Schuster titles!
There's a book called '
Milo and the Re-Start Button
' which is a bit special. Kind of like an emotional 'Wimpy Kid', and I cant wait to read Sophie Mckenzie's '
Sister, Missing
', the sequel to '
Girl, Missing
'. Sophie is a fabulous storyteller.
As for other publishers stuff, the new Morris Gleitzman, '
Grace
', sounds brilliant (I nabbed an Australian copy from my editor!) and there's also a debut by Annabel Pitcher called '
My Sister Lives on the Mantelpiece
' which is bloomin' marvellous. We'd tried to buy it on submission but fell short, cue much howling and wailing from everyone in the office...
We share some favourite authors, like Morris Gleitzman and Kevin Brooks. Besides those two geniuses, who else should YA readers make sure they have on their radar?
The people that made me want to write are S.E. Hinton (everyone should read '
The Outsiders
'), David Almond (obviously), David Klass ('
You Don't Know Me
' was a massive inspiration but is now out of print in the UK!) and of course Markus Zusak (my signed copy of '
The Book Thief
' is a prized possession).
Other big favourites are Keith Gray, who to me is the most under-rated YA author writing today, and Siobhan Dowd, whose four books are simply flawless. I was lucky enough to know her when I worked at Random House. She had an unbelievable talent.
And lastly, what can we expect from you in the future?
Well, book two is almost drafted out and ready to be pulled apart by my fair editor.
It's not a sequel to '
Being Billy
', but it centres around Daisy, a girl who Billy meets in his story. I've spent the last eleven months pretending to be a fifteen year old girl. it's been...interesting, and certainly a challenge. I suppose you could say it's a prequel, but hopefully not in a Star Wars kind of way. That would be terrible....
----------
Related links: