In My Mailbox idea from Kristi @ The Story Siren, and all links take you to Amazon. Click images for a bigger picture!
Woohoo for new UK releases and publishers being back at work. I missed talking to all my friends over the Christmas holidays, though I'm sure they're not as happy about being back at work ;)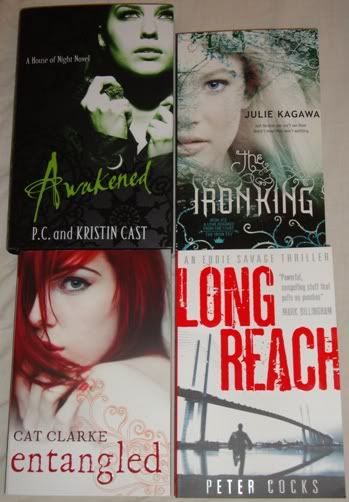 For review:
Long Reach
is a good one.
~
Bought:
I think I first saw this one over at
The Story Siren
a few weeks ago. It sounds fun, and quite similar to Anna Godbersen's
Bright Young Things
.
Yay! This is the series that inspired my blog name, and I can't wait to see where it ends. Also, isn't the cover amazing?!
~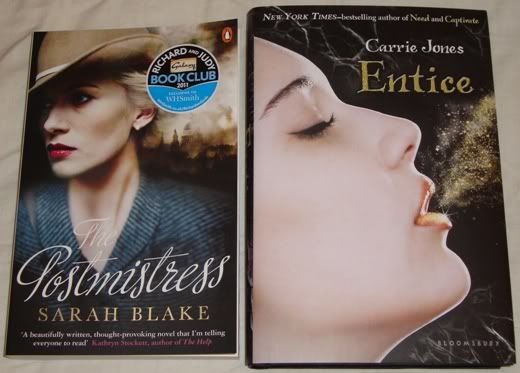 Gifts:
Everyone at WHSmith, where I work, was given a free copy of this because the Richard & Judy book club is exclusive to us. It's set in WWII are sounds like a good read, even though it is adult! I do love my WWII stories...
This is a late Christmas present from my mum and dad - I have the rest of the series in US hardback, so I had to match.
~
I also have to mention this cool set of
13 Treasures
top trumps cards I won from my buddy Michelle Harrison's
Facebook page
. I'm a HUGE fan of her books, and these are very cool. Thanks Michelle!
Also, thanks to Stephanie Kuehnert, who sent me some signed
I Wanna Be Your Joey Ramone
and
Ballads of Suburbia
bookplates and bookmarks. High five to you, dude!
Happy reading!