Brenna Yovanoff is the debut author of
The Replacement
, a seriously dark story of changelings set in the creepy town of Gentry. I'm very excited to be kicking off the UK tour for this January Simon & Schuster publication, and you can follow the rest of it at the blogs mentioned on the schedule
here
.
----------
How did you first get involved with Maggie Stiefvater and the Merry Sisters of Fate?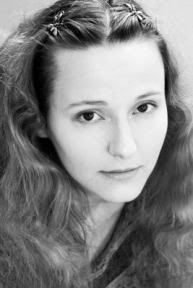 I first met Maggie online when she put out a call for critique partners. I'd already seen a few samples of her work and I knew I wanted to read more, so I volunteered. After we'd been working together for a few months, Maggie introduced me to Tessa Gratton, who'd also responded to Maggie's post and the three of us started trading our work around to each other. Then Maggie suggested that we put together a group blog, but instead of personal posts or thoughts on writing, it should involve fiction. We did, and the Merry Sisters of Fate are still going strong, with an anthology due out in 2012.
Describe your debut novel,

The Replacement

, in 10 words or less.
Strange boy learns where he came from. Danger, kissing ensue.
How long did it take for

The Replacement

to go from a first draft to a finished copy on the shelves?
Don't hold me to this because I'm not great at math, but I think it was three years almost to the day between the time I wrote the very first sentence to the time I saw
The Replacement
on shelves. I know that seems like forever, but I think it's really a pretty typical time-frame for publishing
Have you always had a particular fascination with the fey?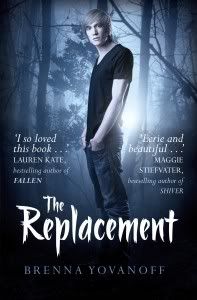 I wouldn't say that I have a fascination with the fey so much as a specific fascination with changelings, which I think are very creepy and unsettling, so I knew I had to write about them. If I had to pick a favorite supernatural creature, it would be difficult but I think I would probably choose demons, or maybe ghosts.
What was the hardest scene to write?
Hmm . . . probably any of the scenes with Mackie's dad, because they're mostly very quiet, but they still have to carry a lot of emotional weight and so every time I'd go into one, it would be all about balancing that emotion with the fact that Mackie's dad is just a very understated man.
Is the creepy town of Gentry based (however loosely) on a real-life place?
Gentry isn't really based on one particular place, but I definitely got a lot of inspiration from visiting my sister at college in Pennsylvania. I'm from Colorado, where it's sunny all the time and you can see for miles. I've never been to Pennsylvania when it wasn't raining, or at least overcast, and there are so many trees that it's easy to get turned around if you're not careful. I thought it was very exotic and knew I wanted to set a book there.
What do you think about the difference in US/UK covers for

The Replacement

? Do you have a favourite?
I will always love my US cover immensely—I've been dreaming of being an author for most of my life and it's the first cover I've ever had, so it has a particular place in my heart. (Also, I love all the creepy hardware.) However, I'm ridiculously charmed by the UK cover because it has an attractive boy on it and really, what more can you ask for?
If you could choose only one book to read for the rest of your life, what would it be and why?
This is a really hard question, and even knowing that it's cheating if I pick more than one, I still can't quite stick to one answer. I think it would either be
American Gods
, by Neil Gaiman, or
The Little Friend
, by Donna Tartt. I'd choose one of these because they're both big fat books with lots of nuance and texture and little corners to explore, and also because I've already read both of them too many times to count and haven't gotten tired of them yet.
Top 5 music bands/artists: name 'em!
Firewater, Regina Spektor, Counting Crows, The National, NOFX
What are you currently working on?
Right now, I'm working on a story about demons, monsters, moral ambiguity and true love. It's got slightly more romance than
The Replacement
and should be out sometime late next year.
Thanks so much for having me, Jenny!
----------
Related links: