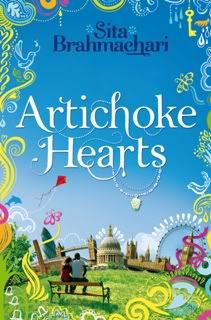 Publisher:
Macmillan
Format:
Paperback
Released:
January 7th, 2011
Grade rating:
A+
Amazon summary:
Twelve-year-old Mira comes from a chaotic, artistic and outspoken family where it's not always easy to be heard. As her beloved Nana Josie's health declines, Mira begins to discover the secrets of those around her, and also starts to keep some of her own. She is drawn to mysterious Jide, a boy who is clearly hiding a troubled past and has grown hardened layers - like those of an artichoke - around his heart. As Mira is experiencing grief for the first time, she is also discovering the wondrous and often mystical world around her.
Review:
I've been thinking about
Artichoke Hearts
ever since I finished it last week. It just keeps creeping back into my thoughts, and the only thing I can do is talk about it. I've bothered my mum, my friends at work, Twitter... anyone who I can tell about it, I've told. It's honestly that good. It actually took me by surprise, as before I bought it I'd resigned myself to thinking it wasn't for me. My friend told me it wasn't very good, so I essentially ignored it. Then it arrived at work looking all shiny and colourful, and I knew I had to read it. I'm so glad I did, because already it's a contender for the best book of 2011.
Artichoke Hearts
is a novel about many things: love, loss, acceptance, family, friendship. You name it, it's in there. You'd think that covering so many topics would clutter the story and leave it in a tangled mess, but it's the exact opposite. It adds depth and emotion to what is a pretty normal story; after all, we all deal with the loss of a loved one at some point in our lives. If I'm honest, death is something that I find myself thinking about a lot. I'm an anxious person and it's just how I am. Since reading
Artichoke Hearts
, I've started to think about it with an entirely new perspective: one of hope and positivity. People die, yes, but that doesn't mean we lose our memories or our moments we shared with them. Life should be celebrated, and that's exactly what I think Brahmachari was trying to say through Nana Josie and her acceptance of her time coming to an end.
Mira is a typical 12-year old girl. She's on the cusp of growing up and becoming a woman, and is realising that boys aren't just there to be friends with. She's innocent but worldly, if that makes any sense. It's like she's seen so much more than she has, and has a greater understanding of people and the world than she should do. She's dealing with so many life lessons that it's hard not to feel for her. She's watching her beloved Nana Josie deteriorate, she's having feelings for Jidhe Jackson, her body is changing, and all the while she's writing her life down in a journal as part of a school writing club project. I saw a lot of myself in Mira, and I think every girl will relate to her in one way or another. She's the type of protagonist who speaks to you, and I can't say enough good things about her.
Now for my favourite character: Josie. Nana Josie is one of those rare people you'd be lucky to meet. She's graceful and dignified, and she has a sense of humour that had me laughing through my tears. She's the kind of person we all wish we could be, and her strength is an inspiration. Though she's suffering and knows things aren't going well for her, she maintains a sense of normality through it all. Yes she has her quirky moments, of which you'll find out when you read the book (Look out for Moses!), but she's also just the same old Nana Josie to her son and grandchildren. Nothing and no-one can take away her fire, and that to me is just amazing.
Artichoke Hearts
draws on real life in a way that makes you think it could be talking about your friends or relatives. It's such a simple story on the surface, but as you turn the pages and Mira's life unravels, it becomes clear that there is so much more to her and her family. It's a beautifully written coming-of-age story and, if this is the standard that future British debut novels have to live up to, I'd say we're in for a fantastic year. It really is a special book, and it's one that will stay with me for a very long time.