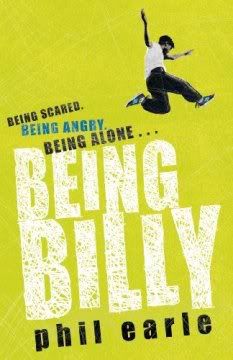 Publisher:
Puffin
Format:
Paperback
Released:
January 6th, 2011
Grade rating:
A-
Amazon summary:
Faces flashed before my eyes. And for every face there was a time that they had let me down. Each punch that landed was revenge, my chance to tell them I hadn't forgotten what they did. Eight years in a care home makes Billy Finn a professional lifer. And Billy's angry – with the system, the social workers, and the mother that gave him away. As far as Billy's concerned, he's on his own. His little brother and sister keep him going, though they can't keep him out of trouble. But he isn't being difficult on purpose. Billy's just being Billy. He can't be anything else. Can he?
Review:
Being Billy
is another book to add to the 'Great Debuts of 2011' list. The fact that it's by a lovely British author is even better, as it really shows the amount of talent emerging over here. I am continually surprised at the high standard of fiction making its way onto UK bookshelves, and it's books like this that are paving the way for authors to write about personal experiences and things close to their hearts.
Being Billy
will most probably move you to tears. It takes a lot for a book to make me cry, and I read this thinking I'd be immune. Ha! I wasn't, not by a long shot. Billy's voice grabbed me and didn't let go, and his situation was heartbreaking. On the surface he deals with his life in care homes quite well, but underneath all that he's a lost, angry teenage boy. He has no-one to look up to or model himself on, until he meets Ronnie. Ronnie is Billy's senior care worker and the authority figure he desperately needs, and together they start to figure things out. It's not an easy road, but they do it.
Billy hates care homes, care workers (or 'Scummers', as he calls them), schools, the system. Pretty much everything. That is, everything except his younger brother and sister, Lizzie and Louie. His relationship with them is so lovely to read, and through them you see Billy's true self: his vulnerability, his caring side and the realisation that he is still capable of love. Aside from when he's around his family, Billy is happiest when he's with his new friend, Daisy, a girl also in the system. Their relationship is so realistic and genuine; it's just like a real friendship should be. As we all know, you take the good with the bad, and friendships grow stronger. That's exactly what happens with Billy and Daisy, and it's brilliant to read.
Before reading
Being Billy
, I wasn't at all familiar with care homes or what goes on in them. It's not an environment I've ever found myself in, and it's not somewhere I'd personally ever like to work. Phil Earle worked there himself when he was younger, and has drawn on his own experiences to write this book. Thanks to his descriptions and scene setting, I felt like I'd actually been there myself. I could see the lonely-looking buildings and suffocating walls as if they were right in front of me, and that's always hard for me to do as a reader. As far as I know, Billy himself isn't based on any one real person, but the reality is that there really are children like him, facing these terrible lives and growing up on their own. It's an important story that needed to be told, and I'm so glad it was.
I know
Being Billy
sounds like a serious book, and it is, but it's one full of hope and belief. It isn't a story you see a lot in YA, but it's one that should be told, remembered and learnt from. Add to that the great writing along with the shiny bright green cover and you really can't go wrong. Even if this isn't your usual reading material, give it a go. It might just knock your socks off.