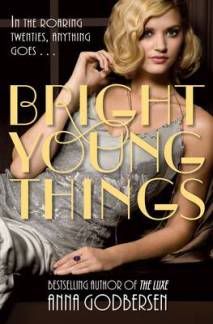 Publisher:
Puffin Razorbill
Format:
Paperback
Released:
January 6th, 2011
Grade rating:
B
Amazon summary:
It's 1929 and Letty Larkspur and Cordelia Grey have escaped their small Midwestern town to chase big dreams and even bigger secrets. Amongst the glittering metropolis of New York City, they meet Astrid Donal, a flapper who has everything she could ever want, except for the one thing Letty and Cordelia have to offer—true friendship. Set in the dizzying summer before the market crash, against the vast lawns of the glamorous Long Island mansions and on the blindingly lit stages of Broadway, three girls will find scandal, intrigue, and romance...
Review:
Bright Young Things
contains one of my favourite ever YA prologues. I read those 3 pages and was immediately hooked. I mean, after a declaration like that final sentence, how could I not be?! The book started off well, but I thought it was a bit slow in the middle, before picking up pace again for the last 80 pages or so. This is a problem I had with
The Luxe
series too - Godbersen's writing didn't hold my attention for the whole of the fairly long page count. I can't put my finger on why, which is frustrating, but I hope some of you know what I mean.
I found
Bright Young Things
to be better than
The Luxe
, and certainly better than
Rumors
, which are the only books of Godbersen's I've previously read. The characters in this book, Letty, Cordelia and Astrid, captured my imagination more, and I preferred their personalities. Letty was my favourite, with Astrid coming in second. Each girl is, to a certain degree, innocent and untouched, though all 3 of them are deluded into thinking the bright lights of New York hold the answers to all their problems. They soon find out different, thanks to men of a questionable nature and finally learning the realities of financing their own lives.
As with Godbersen's previous books,
Bright Young Things
features a historical setting, dashing romance and protagonists you both loathe as well as sympathise with. I didn't particularly warm to Cordelia and her ridiculously easy quest to find her father; I thought she was self-centred and blinded by the glitz and glamour of New York's elite. She paled in comparison to shy, naive Letty and headstrong Astrid. There was no shortage of male characters peppering the pages of this book, though none of them really stood out. Charlie was a complete idiot, and the less said about Thom the better. That just leaves Grady, who was probably the best of the lot. I hope we see more of him in future books.
Bright Young Things
is a good start to this new series set in the roaring 20s, and I'm looking forward to learning what happens to each of the girls, as was prophecised in the genius prologue. I have my suspicions, of course, but I'm rarely right when I try to guess things. I'll just have to be patient and wait for
Beautiful Days
, which is published later in the year.