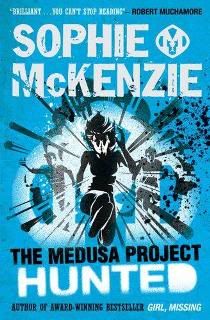 Publisher: Simon & Schuster
Format: Paperback
Released: January 6th, 2011
Grade rating:
B/B+
Amazon summary:
Dylan, the daughter of the scientist who created the Medusa gene for psychic powers, has never felt she really fits into the crime-fighting Medusa Project. But then she makes a discovery about her father's death which changes everything. As she and the other Medusa teens search for the truth, Dylan meets Harry - a boy who seems to know more about Dylan's past than she does. But can Dylan trust him? While Dylan searches for the mysterious legacy that her father has left her from beyond the grave, her dad's killer closes in. But just how far is the murderer prepared to go to keep Dylan from finding out the truth?
Review:
You know how I've read the first 3
Medusa Project
books, and liked but not loved them? Well, I think all that just changed when I finished
Hunted
. I couldn't put it down! There were shocking twists and turns all the way through, I loved Dylan as a narrator and everything made sense. I also had an "I knew it!" moment towards the end - believe me, Medusa fans, you will not see it coming. Or maybe you will and I am forever destined to miss even the simplest of hints... either way, there's an OMG ending and I couldn't get enough. I want
Double-Cross
, like, now!
When people say Sophie McKenzie can write action, they really aren't lying or exaggerating. She managed to have me on the edge of my seat (or bed, if you want to be technical - it's my favourite reading spot) for the whole of
Hunted
, and if ever there was a series that should be immortalised as a TV show or movie, it's this one. There were explosions, betrayals, force fields, genetically enhanced powers, danger, destruction... and all that from one 261-page book!
This series is definitely getting better with each book, though now I'm left wondering what will happen in
Double-Cross
. And, more importantly, whose perspective will it be from? The main 4 - Nico, Ketty, Ed and Dylan - have all had their share of the spotlight now, so who's left? Will it start the cycle again, with Nico and his telekinesis? I do have an idea, though I'm sure I'll be proved wrong when the book finds itself in my possession. Surprise and intrigue are the name of the game when it comes to
The Medusa Project
, and I'm expecting nothing less from book 5. In the meantime (err... a 5-month wait), I think I'll read Sophie's other 3 novels. I'm obviously missing out on their action-packed greatness!