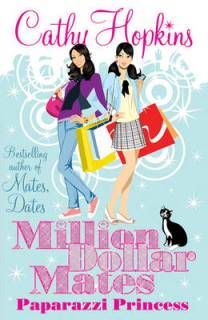 Publisher:
Simon & Schuster
Format:
Paperback
Released:
January 6th, 2011
Grade rating:
B/B+
Amazon summary:
It's the end of term and Jess is excited about all the new faces due to arrive at Number 1, Porchester Park for the holidays. Outside the apartment block, the usual paparazzi lie in wait hoping for a story or photo. Jess knows she should avoid them, and when new resident Riko arrives, they enjoy dodgin the cameras together. But is Riko all she appears to be - or is this million dollar mate a fake? Distracted by two boys: handsome A-lister, JJ, and school babe-magnet, Tom - neither of whom are making their intentions totally clear - Jess is finding it really hard to know who to trust right now. And getting it wrong could prove to be a costly mistake...
Review:
The
Million Dollar Mates
series is absolutely perfect for teenage girls navigating the crazy world of boys and friendships. It has a healthy dose of morality and seriousness, but it also depicts a group of teenagers doing what they do best: having fun. I really enjoyed
Million Dollar Mates
, the first book in this series, and am happy to report that
Paparazzi Princess
maintains the high standard previously established.
This time it's the Christmas holidays for Jess and her friends at Porchester Park, London's swankiest new apartment complex. Seeing that most people living there are uber rich, they jet off to snowy destinations for a bout of skiing, leaving Jess and Pia with the place to themselves. Boring, right? Wrong! Jess's crush Tom is still on the scene, along with spoilt girl Riko, who literally has to dodge the paparazzi for a living. Now there's a life I never want!
Jess and Pia end up being quite good mates with Riko, even though she's secretive and partial to a spot of fibbing. Throw in an unknown boy and an unchaperoned attempt at a trip overseas, and nothing is quite going to plan for the residents of Porchester Park. Quite a few important lessons are learned in
Paparazzi Princess
, with Hopkins showing how selflessness can help others, especially at a time like Christmas.
This series has a fab selection of characters, and will show teenagers that they're not alone in growing up.
Paparazzi Princess
is a quick but fun read, and has done its job of leaving me looking forward to
Catwalk Queen
in the summer. Girly fiction FTW!